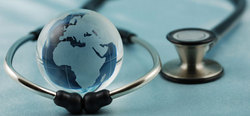 "We want to offer our clients the very best choices and facilities for their medical procedures and we ensure that all of our facilities are accredited. We focus on making sure that safety and satisfaction is met at all times" says Michael Snyder Esq CEO
Carlsbad, CA (PRWEB) June 3, 2010 –
Website promotes the healthcare options to Americans who are looking for alternatives to the high cost of medical treatment in the USA.
Global Medical Connect is a one stop medical tourism shop to take care of all medical, travel and leisure needs. Medical tourism is a word that has been coined by travel agencies to denote the practice of traveling internationally for medical treatment. Medical tourism is a concept that has recently became popular but has been followed thousands of years ago by pilgrims to cross border for getting treated for various ailments.
According to a recent (May 2010) CNN article, "More than 878,000 Americans are expected to travel internationally for a medical procedure this year, according to a report from the Deloitte Center for Health Solutions. That number is expected to nearly double by 2012. The majority of medical tourists are uninsured; however, the cost of health care in this country has become so expensive that even some U.S. health insurance organizations are coordinating with hospitals overseas."
Several reasons why US patients follow the concept of medical tourism includes the high cost of healthcare in the USA. "It is curious to a number of folks as to why an established American health insurance company would be interested in medical tourism," says David Boucher, president of Companion Global Healthcare, a subsidiary of Blue Cross Blue Shield.
His pilot program launched in 2007 as a "medical travel facilitator," allowing participating employers to add an international option to the health care plans they offer to staff. The company has partnered with 29 hospitals in 14 countries and offers negotiated rates that are lower than those offered at hospitals domestically.
Boucher says employers will sometimes waive co-pays or purchase airline tickets if an individual opts to travel abroad for expensive surgery because, ultimately, it benefits everyone.
"We want to offer our clients the very best choices and facilities for their medical procedures and we ensure that all of our facilities are accredited. We focus on making sure that safety and satisfaction is met at all times" says Michael Snyder Esq., CEO of Global Medical Connect LLC. "We strive to achieve balance through lower cost of medical procedures for all clients, while maintaining the highest standards of medical care".
About Global Medical Connect
Global Medical Connect is leading Medical Tourism providers, focused on saving lives and money by offering Healthcare procedures outside the U.S.A.
###