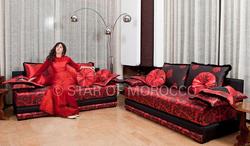 Mysticise the ambiance of your home decor with the magical touch of Morocco
Austin, TX (PRWEB) June 1, 2010
The leading online Moroccan furniture store in the US, Star of Morocco, declares the reception of its latest container of Moroccan furniture and decor pieces. With the addition of an exquisitely handmade collection of Modern Moroccan living rooms, tables, Moroccan lanterns, henna lamps, armoires, chest, desks, standing and hanging corner pieces, cookware, Star of Morocco offers an array of choices to consumers who would like to add that special touch to their home decor. This latest acquisition of the most authentic line of Moroccan furniture and decor items puts Star of Morocco at the forefront of the exotic home decor industry. Our latest container coming straight from Marrakech contains a myriad of Moroccan home decor items with exquisitely hand-painted and hand-carved pieces.
Most of our wood pieces are made of finely selected Moroccan woods. Every piece is handmade and hand-painted with the most authentic Moorish motifs. Colors used range from yellow, blue, green, and orange to a red that reminds everyone of the Alibaba magical cave.
Our collection of headboards, along with their matching nightstands, will enliven any bedroom with that magical vibe that most are longing to achieve for their bedroom. This new collection of headboards can be used either for the parents' or the kids' room.
With such warm colors and intricate fine motifs, everyone will feel joy, peace and serenity admiring these pieces.
As Morocco is known for its delicious cuisine and with the increasing demand from clients worldwide of Moroccan cookware, Star of Morocco has added a large array of plates, salad bowls, serving tagines, and even soup bowls. All our cookware is imported directly from Asfi, a coastal city in Morocco that specializes in hand-painted and hand-carved clay. Our cookware comes in different sizes. It can accommodate a single person to a large gathering of people. For example, we have salad bowls for two or three people to even five people or more. Our plates can be used as serving platters or can be showcased on a coffee table or buffet or even hung on a wall. Moreover, our cookware comes in different colors ranging from pink, yellow, and blue to white, turquoise, and green.
Moroccan tea glasses are the prime symbol of the unparalleled warm Moroccan hospitality. For those needing tea glasses, Star of Morocco's latest shipment of Moroccan tea glasses will dazzle more than one. They are all painted with warm Moroccan colors in different exquisite designs. They come in various sizes from 2 to 3.5 inches high. They can also be used as either decorative accent pieces or even original wine glasses.
Founded in late 2006, Star of Morocco has been importing Moroccan decor and furniture directly from the red city of Marrakech in Morocco. With the increasing demand of Moroccan imports, Star of Morocco had to up the frequency of bringing containers from Morocco. Anybody can special order any piece from the store with their own specifications in terms of design, colors or even dimensions. Star of Morocco is accustomed to working with individual customers, interior designers, and decorators. For the past few years they have provided Moroccan furniture and decor pieces to hotels, restaurants, bars and more. Products can be shipped worldwide. Star of Morocco's showroom/warehouse is located in Austin, Texas from where their products ship.
# # #