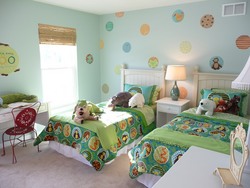 A model home shouldn't just be decorated - it should be an idea center where buyers can get an idea of how exciting their lives will be in their new home. Tying in the community and what's unique about the builder set a Lifestylist® designed home apart.
Dallas, TX (PRWEB) June 2, 2010
This month three builders are showcasing new Lifestylist® Designed model homes in their communities. Each one had a different story to tell in their homes, and Lifestylist® Suzanne Felber was able to give each a home that helped them achieve their goals.
American Custom Builders is a new name in the Dallas / Ft. Worth area, but the owners of this company have over a quarter-century of home building experience. When they decided to build a model home in Frisco Ranch they were determined to listen to what buyers were asking for and offer a lifestyle that isn't typically seen at this time in this market. This included taking a leap of faith and offering large, liveable homes with media rooms and gamerooms while other builders were cutting back on square footage. They also wanted to stay within a value driven merchandising budget while merchandising their model home with products buyers could purchase themselves within a 10 mile radius of the home or online. When Lifestylist® Design presented their concept to the builder he immediately knew that was the message he wanted to send to his buyers - a home that was inviting, showed how all of the rooms could be enjoyed, and also was in a budget that was achievable to the new homeowners.Lifestylist marketing ideas helped set this home apart for the competition and they have had contracts on homes before their official grand opening.
Champion Homes is a factory built housing company that has been in business for over 50 years, and when they recently were purchased by new owners they wanted to share the message about how the new Champion Homes would be building on their strengths. Champion Homes of Texas came to Lifestylist® Design to help design new homes and interiors that would help consumers understand why factory built housing that was built by this company was a great choice.
The Champion Homes of Texas team chose Lifestylist® Design because of their understanding of factory built housing and asked for help in merchandising and designing a home for the Great Southwest Manufactured Housing Show. By using color and highlighting the architecture of the home, this became the must-see home at the show which was open to both retailers and consumers. The home was purchased by Lifeway Homes in Tulsa,Oklahoma and can now be viewed at their home center.
@home Builders and Lifestylist® Suzanne Felber have been working together on various projects over the years including a Homearama house that was Lifestylist® Designed using previously enjoyed furniture and accessories that had been donated to the Ronald McDonald House ABC Sale in Rochester, NY. When Riedman Development decided to build The Hammocks Apartment, golf villas, and single family homes at the new Timber Banks community in Baldwinsville, NY Felber was their first choice to merchandise the homes, clubhouse and apartments. These new homes are all about lifestyle, and the amazing lifestyles the new residents will be able to experience is highlighted in every room of the clubhouse and new homes.
The Lifestylist® Designed concept is definitely gaining momentum. Consumers are spending more time in their homes, deciding to invest their vacation dollars into their homes so they can have a year long escape instead of a few days. Lifestylist® Design is currently working on some new product launches, a concierge service that will help new homeowners explore their new communities and a design center with @home Builders where lucky @home buyers will be able to design the homes of their dreams.
For more information about the homes mentioned here and Lifestylist® designed developments, please visit our blog at Lifestylist® Designed.
###