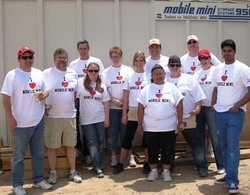 I had a blast working with the MMI crew. It was a very rewarding day and I look forward to being able to do it again soon. MMI Rocks! -Gil Gomez
Irvine, CA (PRWEB) June 1, 2010
Mobile Mini, Inc. has a long standing relationship with Habitat for Humanity, a non-profit organization devoted to building "simple, decent, and affordable" housing. Over the years, Mobile Mini has donated over $1.8 million in steel storage containers and mobile office rentals to help securely store materials and tools during Habitat housing builds.
Recently, the helpful staff and their family members at the corporate office in Arizona donated their time and muscle to a local Habitat home build. Staff members, such as Mark Funk, boasted that it was a perfect way to spend "quality time with the Mobile Mini family" while working for a good cause. With the help of companies like this, Habitat for Humanity houses can be built for people that need them the most.
Along with volunteer time, Mobile Mini has also provided Habitat for Humanity approximately 500 portable storage containers per year as well as discounted rates on other product offerings to local Habitat chapters.
Mobile Mini is proud to be a corporate partner with Habitat for Humanity. Visit the Habitat for Humanity website to learn more about Habitat for Humanity and discover ways that you can help this non-profit organization in your community.
Mobile Mini, Inc. is an industry leader in providing portable storage unit delivery to homes and businesses. To learn more about Mobile Mini's storage containers and mobile office selections, please visit their website.
###