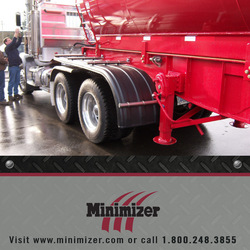 Blooming Prairie, MN (PRWEB) June 1, 2010
Minimizer tanker fenders have always been the best fender product for tanker trucks. Oil fields, farm fields and industrial environments are tough, messy, full of rocks, mud and other debris.
Now the Minimizer tanker fender is even better. The following improvements and upgrades are now available on the Minimizer tanker fender:
1. The fender comes with a deeper unique "lip" that provides superior control of water spray and rocks.
2. The fender comes with Minimizer poly brackets, unlike the competition that provides metal brackets. Minimizer poly brackets won't stress crack, never need paint and they soften road vibration when combined with the Minimizer tanker fender.
3. The fender is now available with all of the Minimizer unique option finishes: diamond plate, liquid platium and a paintable version.
4. The fenders and brackets are guaranteed for life.
The Minimizer tanker fender keeps trucks, trailers and equipment clean and in good condition. Downtime due to equipment failure is costly and can be avoided by using Minimizer fenders.
We spoke with Justin Bond of J. Bond & Sons, Ltd., a custom fabrication shop located in Mission, British Colombia. J. Bond & Sons manufactures high demand machinery such as manure spreaders. "We need tough components for the machines we build," said Justin. "Durability is critical and the Minimizer fender is perfect for the in-the-field applications that are going to take abuse."
Justin continued, "We liked the idea of the Minimizer because we knew we wouldn't have corrosion issues and they wash off easily. A metal fender stains and never looks good again after a day in the field on our equipment. We like the versatility of Minimizer fenders; they return to their original shape if you happen to dent them, they're user friendly, they look good, they're light weight, they don't discolor and they can take a beating from rocks and salt. We know this fender is dependable and will do the job day in and day out."
J. Bond & Sons, Ltd. has been using the Minimizer fender for some time and they're continuing to roll it out to other product lines. "This is common in the heavy equipment industry," states Steve Hansen, National Accounts Manager for Minimizer, "once they try the product and understand the benefits versus metal or fiberglass fenders it becomes the only option for their trucks."
Steve continued, "We're really excited about the improvements to the tanker fender product. Our customers will have even better protection for their assets, virtually indestructible bracket kits, unique finishing options and all of the products are guaranteed for life."
Since inception Minimizer fenders have always been unique. The material they're constructed from is 100% high density polyethylene (HDPE). As a result, they don't need paint, they don't rust, they never fade or stress crack and you don't have to polish them. That's the Minimizer Advantage!
Minimizer fenders will enhance the performance of all makes and models of over the road trucks, construction vehicles, or agriculture equipment.
Enhance and protect your vehicle with Minimizer products. The toughness is unmatched as seen on this Minimizer promotional video entitled "Tested & Tortured".
To order Minimizer fenders find a distributor by clicking here. Minimizer fenders and related products are available through exclusive Minimizer distributors.
For more information or to contact a dealer, call us at (800) 248-3855 or visit our website or email us at info(at)minimizer.com.
About Minimizer
Headquartered in Blooming Prairie, Minn., Minimizer manufactures poly truck fenders, poly toolboxes, customized mud flaps, and bracket kits. Family owned and operated for nearly three generations, Minimizer parent company Spray Control Systems, Inc., was founded in 1983. Minimizer aims to provide products tough enough to please tough people in a tough industry. For more information call (800) 248-3855 or visit http://www.minimizer.com.
###