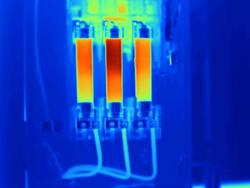 Riverside, Calif. (PRWEB) June 2, 2010
Innovation Products, local Fluke Representative, will be sponsoring this class to assist users in becoming more proficient in the basic use and practical applications of using a thermal imager. This course is for the current and prospective users of IR Cameras.
Learn the principles of how to Think Thermally, basic heat transfer theory, electrical applications, mechanical equipment, building systems, roof inspections, use of thermal imaging equipment, and proper image acquisition. Includes the Snell Certification Standard upon completion of course.
A 32 hour class covering the theory and applications of infrared thermography in the preventive maintenance, quality assurance, condition monitoring, and non-destructive testing of materials fields. This class focuses on qualitative thermography and how to collect data and follow proven and published inspection procedures. Upon completion students will be able to capture clear thermograms and make basic inferences and diagnosis.
Level I material includes infrared theory, heat transfer concepts, and operation of thermal imaging equipment and specific recommendations on how to make quality thermal images that are clear, concise, and easy to interpret. Students are challenged daily with hands on demonstrations, experiments, and inspection situations similar to those they will experience in their work. Students leave Snell training ready to put this amazing technology to work. This course fully meets the educational requirements for certification according to the published recommendations of ASNT.
An overview of the most common applications includes:

Electrical distribution systems
Mechanical systems
Steam systems
Refractories
Underground piping
Active thermography
Building envelopes
Low-slope roofs
Non-destructive testing of materials
Students learn the basic inspection techniques based on accepted industry and international inspection procedures.
The price of the course is $1,695 and is open to everyone, if you own a thermal imager or not. Attendees that do have equipment are encouraged to bring their camera & PC as there are a number of hands-on learning opportunities available during the week. Additional cameras will also be available for those that do not have one. Click here for more detailed course info and registration form: Flyer/Registration Form
The training will be held at the Sheraton Garden Grove-Anaheim South (12221 Harbor Blvd. Garden Grove, CA 92840). The Sheraton is just one mile south from the Anaheim Convention Center and a five-minute shuttle ride to the Disneyland Resort. For more information, please contact Denise Figuls (714-703-8400 ext. 7107) or visit their website at http://www.sheratongardengrove.com.
Continental Breakfast and mid-afternoon coffee will be included. Lunch will be available at the hotel restaurant at the attendee's cost (Average cost is $8.95, not including tax). Also, a block or rooms will be available at a special rate. That information will be given out once you are registered for the course. Complimentary parking is also included.
About Innovation Products:
For 20 years, Innovation Products, Inc. has been the leading technical Sales Agency serving Southern California, noted for its ability to identify and close new business opportunities in the OEM & End-User market segments. We specialize in industrial automation/instrumentation and control.
Contact Information:
Alex Johnson
Innovation Products
(951) 682-8506
sales(at)innovation-products(dot)com
# # #