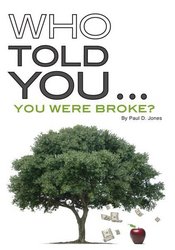 "This book will give you the courage, the plan and the inspiration to be the success you know you can be."
Lakeville, MN (PRWEB) June 1, 2010
Could the answer to the successful life you dream of be a thought, or better yet, a personal choice away?
Paul Jones believes so. In his debut book, "Who Told You...You Were Broke?" (Beaver's Pond Press), Jones delivers sixteen chapters of life changing revelations and steps that will truly become precious pearls of wisdom all designed to help you cash in on the abundant life you can lead and hold on to once you discover and fulfill the true purpose for your life.
His inspirational guide is designed to help you remove life's blinders and become the success you dream of with the simple, yet complicated choice of re-framing your mind.
There are three things that hold importance in Jones' life: faith, family, and financial freedom. A successful, self-made, true 'mama's boy', Jones is determined to accomplish one goal with his new book: "help you to NOT live a blind life." With "Who Told You...You Were Broke" he has created a step by step guide to help you create a "Personal Revolution" in your life. Jones lays out all of his steps with solid, faith centered references to help you become the absolute best version of yourself.
The book is designed to help you recognize; change; imagine; defeat the enemy of fear and; create a revolutionary change in your life to give you the ability to rise to the top.
An entrepreneur's mission statement, a self-help inspirational reference guide, call it what you want, "Who Told You...You Were Broke?" is a must read for anyone wishing to move their life from average to extraordinary and become the success that they were meant to be!
About Paul D. Jones:
Paul D. Jones, a Minneapolis-based businessman, entrepreneur, and motivational speaker has devoted his time to educating the public about many of life's financial circumstances. Paul, a God-made millionaire, credits his success to his incredible determination and faith. Born in Rockford, Illinois, and raised in Beloit, Wisconsin, Paul's journey began in the projects as the youngest male of nine children, raised in a household headed by a single mother. Remembering his mother's motivation, "You will be somebody," Paul headed to Colorado to achieve just that. It was from the Colorado Institute of Art, that Paul graduated with a business degree. He then moved to Minneapolis, got married, and began a family. He now is a successful entrepreneur and travels the country teaching and speaking the principles of his new book, "Who Told You…You Were broke".
Contact:
Jones Marketing Group, Inc.
952-564-6350
###