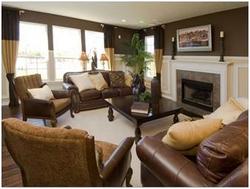 Fortville, IN (PRWEB) June 1, 2010
Indianapolis homebuilder, Ryland Homes, received its second consecutive Residential Safety Award from the Metro Indianapolis Coalition for Construction Safety (MICCS). The Residential Safety Award is given annually to the homebuilder with the most advanced and effective safety program.
While many residential construction companies have yet to establish or implement safety programs, Ryland Homes developed a progressive safety manual over 15 years ago to protect its employees, specialty tradesmen and contractors.
Ryland's home building Vice President, Steve Dean, said that winning the Residential Safety Award is important not only for the company but also for employees on all levels.
"This recognition means that all their hard work and efforts paid off; they also recognize that because of their work, somebody went home today, unhurt."
Homebuilders that wish to be considered for the Residential Safety Award must go through a rigorous application, qualification and inspection process. Applicants are required to submit documentation of their safety program, an outline of the program as it applies to all employees, as well as safety data from the previous three years. Finally, the homebuilder must agree to an onsite inspection by MICCS.
Mark Owens, an MICCS awards program adjudicator, stated that the entire panel of judges agreed that Indianapolis new home builders, Ryland Homes, had implemented a safety plan that went beyond those of other residential construction companies.
"Ryland consistently works with approximately 70 different construction companies and 35 of those companies have at least one, 30-hour OSHA certified person, and onsite they now have 440, 10-hour OSHA certified people. They have a solid program that appears to be growing leaps and bounds each year."
The winner of the Residential Safety Award is placed in the running for the Crystal Eagle Award, the highest award given by the MICCS.
About Ryland Homes
Ryland Homes is one of the largest Indianapolis home builders offering new home construction. With more than 40 years of industry experience and rigorous safety programs in place, Ryland Homes is committed to advancing industry standards for secure jobsites and safe employees. For more information, visit http://www.ryland.com.
About MICCS
Established in 1992, MICCS is the largest construction safety association in the nation. As a 510 c 6 charitable organization, MICCS is dedicated to zero injuries on construction jobsites. Members of the MICCS work together to promote construction safety standards and awareness in the residential construction market. For more information, visit http://www.miccs.org.
###