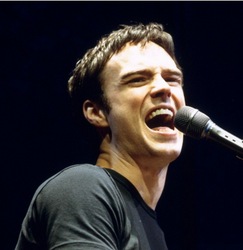 The New Voice of the American Rock 'n' Roll Songbook follows on the Success of Billy Joel & More with a Completely New Show
Las Vegas, NV (PRWEB) June 1, 2010
Michael Cavanaugh, made famous for his piano/lead vocals in the Broadway Musical Movin' Out, is debuting a new show, The Songs of Elton John & more together with the Indianapolis Symphony on June 11, 12 and 13, 2010 at the Hilbert Circle Theatre in Indianapolis, IN. http://www.indianapolissymphony.org/tickets/learnmore.aspx?id=2836
Michael Cavanaugh was handpicked by Billy Joel to star in title role of Movin' Out on Broadway and evokes a style rivaling the Piano Man. Cavanaugh appeared in the show for 3 years and over 1200 performances, which culminated in 2003 with both Grammy and Tony award nominations.
After the huge success from the orchestra show "The Songs of Billy Joel & more," Cavanaugh's newest show in the "Generations of Rock" series will feature some of the greatest hits by another great piano legend: Sir Elton John. Just as he did with his first orchestral show, Cavanaugh will be opening up the Rock 'n' Roll songbook and not only play songs by Elton John but will also feature selections by other legendary artists. Get ready for some surprises!
2010-2011 Tour
Michael Cavanaugh will tour extensively for the 2010-2011 season bringing to life the Rock 'n Roll Songbook in new ways to audiences all over the country. Upcoming dates include a visit to his hometown of Cleveland, Ohio at the Summer Music Fest at Classic Park on August 7 https://secure.minorleaguebaseball.com/tickets/form.jsp?formid=concert&formcode=purchase_may15&sid=t437 and over 15 cities including Palm Beach, Nashville, Omaha, Dallas, San Diego, Akron and the Gallo winery in Modesto. The tour features songs from the Rock 'n Roll Songbook including Billy Joel, Elton John, the Beatles, Bruce Springsteen, the Eagles and more.
About Michael Cavanaugh
Michael began playing at age 7, when his parents bought their first piano. Encouraged by family and friends, and inspired by his hero Billy Joel, Michael formed his first band at age 10 and began playing local functions, fine-tuning the craft that would become his chosen career.
His first full time gig as a musician was an extended engagement in Orlando Florida at a piano bar called Blazing Pianos. In January of 1999, Michael received an offer that would unknowingly change his life, with an opportunity to play Las Vegas at the famed "New York, New York Hotel and Casino." It was there that Billy Joel spotted Michael and joined him on stage one fateful night of February 2001. It only took 2 songs before Billy was convinced that he had found his new Piano Man, Michael Cavanaugh. Michael closed up shop at New York, New York and moved to New York City to work alongside Billy Joel and Twyla Tharp, to shape the Broadway Musical that would be called "Movin' Out".
With the close of Movin' Out at the end of 2005, Michael began touring in his own right, creating a show that reinterprets the modern pop/rock songbook. Michael soon became one of the hottest artist's in the corporate/events market. He continues to perform worldwide for company and charity events as well as sporting events including PGA tour events, the US Open, the Indy 500. It wasn't long before Symphony Orchestras discovered Michael's talents and audience appeal. He accepted his first orchestral booking, "Michael Cavanaugh - The Songs of Billy Joel and more" which debuted in April of 2008 with the Indianapolis Symphony and he is currently touring this production. In October 2008, he signed with Warner/ADA to distribute his first CD titled "In Color."
For more information visit http://www.MichaelCavanaugh.com.
# # #