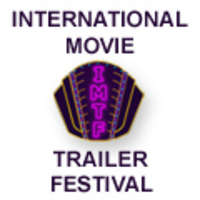 "While most trailers are made after the movies are completed, some trailers are shot before the film is made. For example, the Coen brothers shot a pre-production trailer to raise money for their first feature BLOOD SIMPLE."Add a quote
Los Angeles, CA (PRWEB) June 1, 2010
Moviemakers and fans around the world are discovering a new virtual community for those who appreciate the art of the movie trailer. The International Movie Trailer Festival (IMTF), started by a group of movie professionals in California, is now sponsoring a contest for anyone who has made a movie or who dreams of making a movie.
Unlike other video contests that specify a subject such as democracy or the sponsor's product, this online movie trailer contest gives the contestants unlimited freedom. The Festival accepts works in all genres including documentary, drama, comedy, and animation, and is open to students, experienced moviemakers, film and video hobbyists.
Thanks to recent video innovations, millions of people have access to inexpensive cameras and editing tools that rival what professionals were using just a few years ago.
"While most trailers are made after the movies are completed, some trailers are shot before the film is made. For example, the Coen brothers shot a pre-production trailer to raise money for their first feature BLOOD SIMPLE," according to Festival co-founder Murray Suid. "While making a quality feature still requires a lot of money and a vast amount of time, almost anyone with some imagination can make a visually please two-minute trailer that that can capture the moviemaker's idea."
Entries so far range from an animated mock soap opera, submitted by a New Zealand moviemaker, to Cassie Jay's DADDY I DO, a trailer representing a film that recently won the documentary award at the Cannes Independent Film Festival.
The contest offers many prizes including a grand prize of $5,000. For student filmmakers there is an award for the best student-produced trailer and for the student's school. There is also a People's Choice Award, and a prize for the best song or film soundtrack. The Festival's deadline for this year's contest is August 31.
Entries will be exhibited 24/7 at http://www.internationalmovietrailerfestival.com . Viewers to the site will vote for the People's Choice Awards, while a jury of movie experts will choose the top prizes. Judges include producer Scott Rosenfelt (MYSTIC PIZZA, HOME ALONE) and Oscar-winning director Bert Salzmann. The judges will be working with a scoring system developed with the help of a trailer producer with twenty years of experience at major Hollywood studios.
"IMTF is more than just a contest," Suid explains. "The website includes video tips from professional moviemakers. There is also a blog featuring contributions by film makers and critics, and a film forum that facilitates sharing resources and arranging for creative collaboration."
Suid experienced the potential of online collaboration while working on a fundraising trailer of his own. "We needed a particular shot of the U.S. Capitol," he says, but we didn't have the cash to fly our crew from San Francisco to Washington DC. Instead, we placed an ad online and found a cinematographer who got us exactly the clip we needed. We expect that this kind of linking will happen all the time on IMTF."
On line collaboration is also happening between IMTF and other film festivals that are linked on the site, and the connections won't be just among moviemakers. By showing their trailers on the site, they could interest distributors and financiers. "That," said Suid "is definitely part of the dream. And that is why our tag line is Preview Your Dreams"
For more information about IMTF please contact Ronald Sallon in Los Angeles:
Ronald(at)internationalmovietrailerfestival(dot)com
415-663-9285
# # #