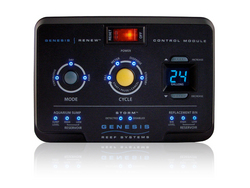 We figured that if we could make the task of water changes as painless as possible for aquarists, they would do water changes more often, and that would lead to healthier aquariums and ultimately fewer organisms removed from the ocean's reefs.
West Chester, OH (PRWEB) June 1, 2010
One small manufacturing company in the United States Midwest is trying to do its part to preserve the world's reefs. Genesis Reef Systems, LLC, located in southwest Ohio – hundreds of miles from the nearest reef, recently introduced its line of automatic water change systems for aquariums. While the systems can be used on any aquarium, the RENEW™ line of automatic water change systems is geared toward reef aquarium setups.
The aquarium enthusiasts at Genesis Reef Systems recognized that one of the most basic yet essential tasks of good aquarium husbandry – frequent water changes – was being ignored by many aquarists simply because of the task's tedious, messy nature. They also recognized that many of the unfortunate and heartbreaking aquarium "crashes," or failures which result in the deaths of nearly all of the beautiful, rare, and prized coral and fish specimens in the aquarium, could be avoided simply by adhering to a maintenance schedule that includes frequent water changes. They decided to do something about it.
"You can preach and preach about the benefits of frequent water changes in aquarium keeping," says Genesis Reef Systems founder and president Kevin Kipper, "but that doesn't mean that people are going to be more likely to incorporate them into their regular maintenance schedules. Many aquarists do not adhere to a strict water change schedule, and unfortunately it's often the beautiful animals in the aquarium and on the ocean's reefs that pay the price." Kevin is very concerned about human impact on the world's reefs, and while he believes that most collectors are good stewards of the environment and care deeply for the reefs, he also believes that every organism left in its natural environment helps to preserve the fascinating underwater treasures. This belief is what led to the development of the RENEW™ line of automatic water change systems.
"We figured that if we could make the task of water changes as painless as possible for aquarists, they would do water changes more often, and that would lead to healthier aquariums, fewer tank crashes, increased longevity, and ultimately fewer organisms removed from the ocean's reefs." So the Genesis Reef Systems team of four engineers set out to make this task as easy and failsafe as possible. Their efforts resulted in a device that can exchange up to 99 gallons of dirty aquarium water for freshly prepared salt water with little or no supervision – all with the press of a single button. The RENEW™ Automatic Water Change System meters the water removed and replaced into the aquarium so that exact volumes are exchanged, and it monitors its own operation so that it doesn't overflow an aquarium or run it dry. It doesn't require turning off any equipment such as filters, pumps, protein skimmers, or other vital aquarium equipment, plus it can perform the water change over the course of hours, a day, or a week. This last feature – stretching a large water change over a longer period of time – reduces stress on aquarium inhabitants by negating the effects of pH, temperature, and salinity differences between the water being removed and the water that is being introduced into the aquarium. Plus, since the RENEW™ makes large water changes as simple as pressing a button, water changes are happening on a more frequent basis. This all equates to healthier aquariums, happier aquarists, and less demand on the ocean's reefs.
But Genesis Reef Systems didn't stop there. They simultaneously introduced their STORM™ Specialized Top Off and Replenishment Module that automatically replaces water as it evaporates from the aquarium, coordinating its operation with the RENEW™ so they work together harmoniously. The unique communication between the two systems is critical – without it there would be no way to run a top off system with a water change system. Moreover, the addition of the optional Genesis ROCv™ control valve to the STORM™ allows control of a reverse osmosis water filter's production of ultra-pure water to replace the evaporated water. Together this trio of simple-to-use devices provides a comprehensive, reliable solution to water handling that promotes good maintenance practices by aquarists, who have warmly received the automated reef aquarium products into the marketplace.
The products have also been well received by retailers and wholesalers, who can now perform large water changes even when busy tending to their customers. Additionally, aquarium maintenance professionals, experts who travel to multiple businesses such as doctor's offices or restaurants and care for their aquariums, have discovered how automation can simplify their jobs and improve their bottom lines. Many have begun to sell or lease the equipment to clients and install them on the aquariums they service.
Although pleased by the warm reception their products have received, Genesis Reef Systems is most proud of promoting responsible practices in the aquarium hobby and the role they can play in preserving some of the most beautiful ecosystems on Earth.
For more information about Genesis Reef Systems and their aquarium automation products and accessories, please visit their website at http://www.GenesisReefSystems.com.
# # #