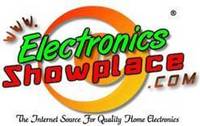 "In essence, our new partnership gives our customers a way to trade in their outdated electronics. It stretches their dollars and helps the planet at the same time."
Burlington, Ky. (PRWEB) June 1, 2010
ElectronicsShowplace.com has formed a new partnership with Engaged Recycling LLC, allowing customers to trade in or recycle their old electronics in a responsible and eco-friendly way, and receive a trade in reward via mail in the form of a Engaged Recycling Visa® prepaid card.
"We all want to do what's right for our planet, and we all want to save money," said Donna Jackson of ElectronicsShowplace.com. "Our new partnership gives our customers a cost-effective, environmentally sensitive way to trade in – or trade up -- their old electronics."
Engaged Recycling is a marketing and sustainability company that delivers solutions for electronics trade-in and recycling that are easy to use, reward participation, safeguard our consumers and ensure environmental responsibility.
The products eligible for the program include video cameras, laptops, digital cameras, eReaders, cell phones, flat panel monitors, music players, GPS units, game systems, film cameras, and camera lenses – many of the types of products offered by ElectronicShowplace.com. Other items like printers empty ink jet and toner cartridges, as well as old home theater equipment, expect to be added to the list later this year.
The program uses best-in-class recycling methods while helping customers to keep a lid on replacement costs. Postage is supplied. "In essence, our new partnership gives our customers a way to trade in their outdated electronics," said Jackson. "It stretches their dollars and helps the planet at the same time."
About ElectronicsShowplace.com
ElectronicsShowplace.com has been in the e-commerce industry since 2005, offering deeply discounted consumer electronics from hundreds of different manufacturers to both businesses and the general public. Their offerings include small appliances, digital picture frames, discount TVs, discount computer electronics, home theater furniture, discount home electronics, discount office supplies, GPS, office electronics, and discount portable audio equipment. Customer service is a priority at ElectronicsShowplace.com. For more information, contact us at http://www.ElectronicsShowplace.com.
About Engaged Recycling
Engaged Recycling, LLC delivers demand generation solutions through trade-in or trade-up of electronic devices, such as cell phones and laptops in a smart, responsible and eco-friendly way. Engaged Recycling offers leading electronics product asset recovery and recycling capabilities so customers can be assured their personal information is permanently deleted and their electronic products are handled in the most ecologically friendly manner. For more information, please visit http://www.engagedrecycling.com.
# # #