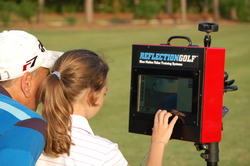 "We capture the swing and instantly correct right on the tee. This is the most simple and affordable on-tee video swing analysis solution available." Brian Moore, Top 50 Junior Tour, Florida Tour Director
Orlando, FL (PRWEB) June 2, 2010
Reflection Golf - (Slow Motion Video Training Systems) Announces Its National Product Launch at PGA Center for Golf Learning and Performance, Port St. Lucie, Florida.
Reflection Golf, the industry leader in low-cost, fully-portable, slow motion video training systems, announces the national product launch of the Reflector PRO 3000 on June 2nd, 2010 at PGA Center for Golf Learning and Performance practice facility, Port St. Lucie, Florida. Featuring a next-generation sunlight readable touch screen, the Reflector PRO 3000 is the easiest-to-operate swing analysis system in the world, requiring no computer experience.
Richard Miller, a Reflection Golf founder, explains."We have been designing and developing slow motion video training systems for the golf industry for over eight years. The Reflector PRO 3000 is the result of major advances in technology which finally allow for the production of a low-cost, truly sunlight readable, easy-to-use, on-tee video kiosk, offering high-quality video at 60 frames per second. This is the breakthrough we've been looking for which can transform the way professionals teach golf and the way students learn to swing."
The Reflector PRO 3000 is both Wi-Fi enabled and 3G capable... meaning, it is able to capture swings anywhere (since it is fully portable) and immediately send that video to any recipient with just an email address. This saves time for the pro and provides valuable data to the student. The system is so user-friendly that anyone can operate it without the need to learn any commands, read any manuals, or even use a keyboard. The touch screen operation makes the entire experience fast and simple.
The Reflector PRO 3000 is so energy efficient and convenient that it weighs just 15 pounds, batteries included. Yet, it can easily operate an entire day on batteries alone. The advanced sunlight-readable screen requires no shading. In fact, the brighter the sun, the brighter the screen! Setup time takes seconds, yet it is fully wind and weather resistant.
Brian Moore, Golf Professional, Top 50 Junior Tour, Florida Tour Director, says"Reflection Golf has the most simple and affordable on-tee video solutions available. We utilize both the Reflector Pro 3000 and the PortaView PRO for our students. The touch screen is easy to operate and the on-screen drawing features save us time during the lesson. No more going back to the office to download, edit and give instruction. We capture the swing and instantly correct right on the tee. This is a must have for any serious instructor."
Reflector PRO 3000 is the only touch screen, sunlight readable, battery powered system on the market today, providing the perfect mobile coaching system for swing video capture and instant analysis. The system includes options for voice-over audio analysis, video sequencing, side-by-side split-screen comparisons, dozens of built-in model swing videos, unlimited folder management, and much more. The Reflector PRO 3000 is a teaching breakthrough.
About Reflection Golf
Reflection Golf–Slow Motion Video Training Systems are purpose built to allow more time to instruct the right swing and technique with simple touch screen functionality and on-screen drawing tools. Reflection Golf's mission is to provide the highest level of quality specialized slow motion video training solutions and swing analysis software at affordable prices. Reflection Golf develops leading edge slow motion video training solutions designed for teaching professionals, avid golfers and PGA professionals.
Contact: Taz Brown, Reflection Golf
1-800-465-2250
http://www.reflectiongolf.com
###