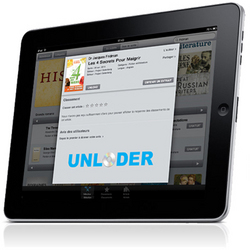 Since unloaded titles are resold for about a third of the original cost, UNLODER™ makes digital products affordable for people who want to buy licensed media but who are very price sensitive.
(PRWEB) June 1, 2010
The creator of the UNLODER™ that lets consumers sell ebooks and other media online, get store credit, and refresh a stale media library at a fraction of the price, is promoting its digital media resale tool as a means to winning a battle within the "war" surrounding the issue of illegal downloading. Lexink® announces its digital media resale solution as the ebooks market sits on the brink of an upcoming expected surge, catalyzed by the release of the iPad and iBooks.
Lexink® owner Alexandre Despallieres asserts that "illegal downloading will continue, but creative solutions like the UNLODER™ can help stem the tide of loss to media producers while providing savings to buyers who want to buy and sell ebooks."
Heather Reisman, chief executive officer of Indigo Books and Music Inc., a company that is charging headlong into the blossoming world of electronic books, was quoted in the Toronto Star recently, saying books will be around for a very long time. Experts report that the ebook market is reaching critical mass and is about to experience the same surge as music did.
"The advent of the Kindle, iPad and other ebook readers is expected to consolidate this trend, in spite of certain Wi-Fi connection issues. When Apple corrects the issue, there is no doubt that the iPad will become omnipresent on college campuses and elsewhere, contributing to the explosion of the ebook market," says Mr. Muller, VP for technology development at Lexink®. "People want and will have access to the classics on-the-go, best-selling fiction and non-fiction or even their favorite self-help or diet book such as 'The Four French Secrets' by Dr Jacques Friedman."
While previously one had to purchase an ebook reader such as Amazon's Kindle, iPad, with its integrated iBooks, definitively changes the face of the digital books markets, pushing up the number of readers who will now take advantage of ebooks, both legally and illegally.
"Of course, people choose illegal downloading not simply because of cost," Despallieres explains. "It is also convenience. In many cases it is faster to stream from video sites than to download from iTunes. Illegal downloading will always exist. It will be impossible to eradicate, but we can cut out some of the causal factors such as cost."
UNLODER™ provides a place for buying and selling ebooks online in addition to providing a resale solution for every type of digital media. Music, television shows, movies and ebooks can be sold and purchased for less. UNLODER™ thus helps to stem the epidemic of digital piracy by making legal file resale a viable alternative to illegal file sharing.
"Since unloaded titles are resold for about a third of the original cost, UNLODER™ makes digital products affordable for people who want to buy licensed media but who are very price sensitive. In addition, digital rights are respected so publishers and creators get their dues with UNLODER™," says Despallieres.
UNLODER™ provides two revenue streams:

The Works - UNLODER™ lets the consumer trade in unwanted multimedia titles and is integrated into the Media Player digital download store. Once a title is unloaded and someone purchases it, the media vanishes from the seller's library and can no longer be played. The seller gets store credit redeemable for other unloaded content or brand new titles.
The Perks – UNLODER™ creates a new revenue stream for the download store; record companies, studios and artists; publishing houses, bookstores and authors. Currently, the profit line ends once a customer purchases and downloads a product. The UNLODER™ adds a profit opportunity via resale. The more media traded, the more money made. After the initial full price sale of a new title, that same title can generate income over and over as it is unloaded.
More information is available at the Lexink.com website.
About Lexink®:
An integrated network of consultants in both multimedia and entertainment industries offers custom solutions through Lexink®, a company that provides innovation and expertise in information technology, advertising, and film production. Applications like the UNLODER™ are designed to foster growth in these industries. Lexink® is a provider of grassroots brand integration that articulates company vision within budget for long-term marketing success. Content for syndicated television programming from a diverse television and film catalogue is also available through Lexink®.
###