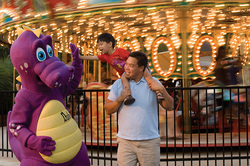 Lancaster County has long been known as a value destination, and the deals from these three family favorites certainly deliver.
Lancaster, PA (PRWEB) June 1, 2010
As if the family firsts of Dutch Wonderland, the latest rides at Hersheypark, and a new show at Sight & Sound Theatres® aren't enough for travelers to the Lancaster County area – now each of these long-time favorites is offering exclusive summer-long discounts to seal the deal!
Dutch Wonderland and Hersheypark
From first coaster rides to the first time "driving" a car, Dutch Wonderland provides memorable moments in a child's life. The fun is just as sweet at Hersheypark, with more than 65 rides and attractions, tons of live entertainment, and splashy water-based attractions in its Boardwalk area.
This summer, Lancaster County visitors can save on admission at either park quickly and easily. Just book a two or more night stay from May 28 to September 5 at a participating lodging property through the PA Dutch CVB Reservation Center, and receive two adult tickets for Dutch Wonderland or Hersheypark at a discounted rate ranging from 6 to nearly 20% off the regular price. Simply call 1-800-PA-DUTCH or use the reservation links at http://www.padutchcountry.com.
Sight & Sound Theatres®
New at Sight & Sound this summer, Joseph takes flight on an inspirational family story about the power of forgiveness, told with upbeat music, live animals, fantastic sets, and dazzling effects like Joseph "flying" over the audience.
And summertime offers a great deal on this great entertainment. Book a two or more night stay from June 1 to September 2 at a participating lodging property through the PA Dutch CVB Reservation Center and receive a Family Four-Pack of tickets (2 adults & 2 children ages 3-18) for just an additional $99 – a savings of up to $71. Plan a trip today by calling 1-800-PA-DUTCH.
Certain limitations apply to these packages. For more information, visit http://www.padutchcountry.com.
Lancaster County is a wonderful blend of urban style and rural splendor, and the PA Dutch CVB is dedicated to promoting its many rich cultures, from the Amish to the arts. Travelers can take in our vibrant downtown city life – with galleries, great dining, specialty shops, and live music – or explore surrounding towns & villages to get a sampling of the heritage, food, craftsmanship, and hands-on activities for which Lancaster is famous.
###