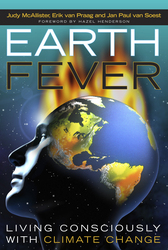 A timely and highly original approach to climate change
New York, NY (PRWEB) June 2, 2010
Will we wait till each scientist in the world agrees about the science behind climate change?
Will we wait till governments, politicians and international organizations agree to every single detail in addressing this threat facing the world?
Or do we start today as individuals in our workplace and in our communities to create a future that allows for a healthy environment, a dignified society, and a peaceful world?
With a change of consciousness and a new spirituality, this is possible, according to the authors of a new book Earth Fever, Living Consciously with Climate Change.
Earth Fever uniquely combines the current state of climate science with social, personal and even spiritual aspects of dealing with climate change. The three authors Judy McAllister, Erik van Praag, and Jan Paul van Soest use their considerable experience with sustainability, holistic education and transformational leadership to describe the change of consciousness and the community environment that is needed to tackle the global problem of climate change and its effects.
In addition, the authors show by interviewing a number of international thought leaders, executives and scientists, such as the former CEO of Royal Dutch Shell Jeroen van der Veer, management consultant Peter Senge, cultural creative Paul Ray, and others, how an enlightened way of thinking and acting will impact the Earth's climate in a positive way. This book is not just a call to action for every citizen of the world, but also includes an appeal to the governments and leaders of the world to take personal responsibility to address climate change.
Earth Fever has already received positive feedback and wide praise from various corners:
"A timely and highly original approach to climate change." -- Hazel Henderson, author of Ethical Markets
"Links a crisp and clear explanation of the climate problem to a spiritual quest for solutions … Earth Fever is something special … Read it and subsequently do something." -- Pierre de Winter, Platform for Managers and Professionals
"Inspiring … the authors show that there is a third way, a path that weaves between doomsday thinking and unfounded optimism…" -- Derk Hueting and Klaas van Egmond, Milieu
ABOUT THE AUTHORS
JUDY McCALLISTER was with Findhorn Foundation in Scotland-- an eco-village and international center for holistic education-- for over twenty years where she served as a Trustee and, then, as its managing director. Ms. McAllister is currently a faculty member of The Edge: International School for Leadership and Spirituality in the Netherlands.
ERIK VAN PRAAG is a psychologist, a business consultant and the dean of The Edge: International School for Leadership and Spirituality. He has written numerous articles and books, including: Spiritual Leadership, Wisdom for Work, Wisdom for Life.
JAN PAUL VAN SOEST is a sustainability consultant in the Netherlands. He has served as board member at World Wildlife Fund Netherlands and director for the Centre for Energy Conservation and Clean Technology. In addition to his writings on sustainability, he recently co-founded Carbon Stars, which helps develop and finance innovative green ventures.
EARTH FEVER: Living Consciously With Climate Change
Foreword by Hazel Henderson
Cosimo Books, May 2010
Environmental Science/ Body, Mind & Spirit
ISBN 978-1-61640-076-7
Paperback, 252 pages, $18.95 / £13.99 -
ABOUT COSIMO BOOKS
Cosimo Books, based in New York, is an imprint of Cosimo, Inc., a specialty publisher of books and publications that inspire, inform and engage readers. Cosimo's mission is to offer unique books to niche audiences around the world.
Always available at online bookstores. Visit Cosimo
BE INSPIRED, BE INFORMED
###