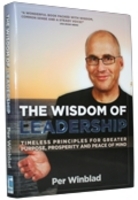 The message of self-leadership as a primary key to effectively leading others is resonating with American readers as powerfully as those in Sweden.
(PRWEB) June 3, 2010
King Solomon is brought to light in Per Winblad's groundbreaking leadership book, The Wisdom of Leadership: Timeless Principles for Greater Purpose, Prosperity and Peace of Mind. The leadership book has been extremely appreciated in Sweden for many years. Now, shortly after its English language version was released in the US, it has received acclaim in the American book industry.
In the book, Winblad deftly constructs a series of meetings between iconic leader, King Solomon, and the beautiful and intelligent Queen of Sheba. Sheba historically sought Solomon's advice, and Winblad seamlessly inserts the reader into the process. Sheba becomes the reader's representative, asking the questions readers want to know. The author has Solomon responding in his own words, which Winblad has gleaned from a variety of historically reliable sources over years of intensive research and analysis. The result is a fascinating "fly on the wall" experience revealing personal and professional leadership principles that are useful and every bit as relevant today as they were in Solomon's time.
The Wisdom of Leadership received this high honor from the International Book Awards, which holds its competition annually. According to the contest website, winners and finalists are selected from among the large volume of books submitted by publishers worldwide. The contest is "a new awards program established to shed fresh light on national and international voices that deserve media and industry recognition."
Author Per Winblad, founder of Motivational Consultants, Inc., is a well-known executive consultant and speaker. While he makes his headquarters in Stockholm Sweden, the newly released leadership book will accelerate Winblad´s ambition to more frequently give speaking engagements and conduct seminars to organizations all over the US. For more information on Per Winblad, The Wisdom of Leadership and the iconic advice of King Solomon visit perwinblad.com
###