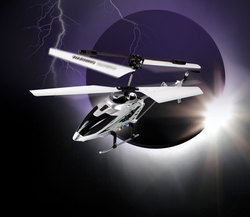 At Protocol, we focus on men's gifts all year long, so when it comes to Father's Day, we make sure we're ready with things men really love. - Robert Goldy, CEO of Protocol
New York, NY (PRWEB) June 1, 2010
Protocol, a leading maker of men's gifts in the U.S., has released a "Top 10 Father's Day" gift list that is slated to further the company's reputation as the retail industry's preferred source for the cool, innovative and opportune.
Said Robert Goldy, CEO of Protocol, "Women and kids everywhere are wondering if there is something that says 'I love you' better than a shirt or tie. At Protocol, we focus on men's gifts all year long, so when it comes to Father's Day, we make sure we're ready with things men really love. We have fantastic remote control helicopters (this is a truly stress-relieving toy for men), training sets that take up so little room you can workout in the corner of the office, and much more."
Protocol's Top 10 Father's Day Gift List Includes:

Tabletop Air Hockey: Protocol's Tabletop Air Hockey fits on any tabletop or desk and includes two scorekeepers, two pucks and two hockey mallets. Retail price: $39.99 Available at: Macy's
4-in-1 Trimmer Set with Travel Case: Stainless steel blades ensure a precise, superior trim, and the set includes attachments for trimming eyebrows, sideburns, nose and ear hair – all in a handy travel case. Retail price: $14.99 Available at:Lord & Taylor
MP3 Speaker System: This hands-free, powerful, battery-operated speaker system is fully portable and works with iPod*, iPod touch*, iPhone* and all MP3 players. Retail price: $14.99 Available at: Lord & Taylor *iPod, iPhone and iPod touch are registered trademarks of Apple, Inc.
ThunderJet RC Helicopter™: Protocol's ThunderJet RC Helicopter™ is a marvel of maneuverability in flight and features omni-directional 3 channel infrared remote control and co-axial auto-stabilizing rotors for precise indoor and outdoor flight! Retail price:$34.95 Available at: Lord & Taylor
Rebounding Putting Set: This fun set features a collapsible 4-piece putter for ultimate portability, making it ideal for the home, office, hotel or living room, and the hole rebounds the ball after you sink a shot. Retail price: $39.99 Available at: Lord & Taylor
Ultimate Training Set: With Punching Ball, Barbells and Jump Rope, this set provides a whole-body workout that really packs a punch! Retail price: $74.99 Available at: GNC & Macy's
A 12-in-1 Flashlight: This multi tool features a flashlight with 4 bright, white LEDs along with a red flashing emergency light, a hexagon wrench, Phillips and regular screwdrivers, a file, two kinds of knives, a can opener, scissors, and a hook disgorger & fish scaler -- all in one! Retail price: $19.99 Available at: Kohl's
26 pc All-Purpose Tool Set: Protocol's 26 pc All-Purpose Tool Set comes complete with everything you need for a quick fix: needle nose pliers, wire cutter, tweezers, sockets, screwdriver bits, socket extender, socket handle, and precision screwdrivers, all in a convenient tri-fold self-locking carrying case. Retail price: $29.99 Available at: Kohl's
Brim Light: This fun, convenient baseball cap clip-on features 5 super bright LED lights, and you can choose between the low, medium or high brightness levels. Retail price: $7.99 Available at: Bed Bath and Beyond
Alcohol Breath Checker Encourage responsible drinking with this handy device, which provides a quick measurement of blood alcohol level content (BAC). Retail price: $19.99 Available at: Best Buy and Bed Bath and Beyond
For more information about Protocol, visit http://www.ProtocolNY.com or call 800-261-1193 for an inventive experience. Join our Facebook page at http://www.facebook.com/ProtocolNY and follow us on Twitter: @Protocol_NY.
About Protocol
Protocol develops and manufactures upscale, design-oriented gift and housewares products for people who appreciate high design. Its customers include major retail chains, specialty stores, and independent gift retailers throughout the U.S. and in several foreign countries. Protocol was incorporated in 1990 as The Ashley Collection, Inc. and distributed European-made silver, glass and pewter gifts for its first five years. In January 1995 the company launched its own line of contemporary products, all marketed under the Protocol trademark, and it now conducts business exclusively as Protocol.
Note to Editors: Graphics of all items are available.
# # #