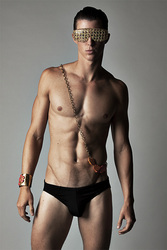 Incorporating the clients vision and the creative teams vision.
Miami, FL (PRWEB) June 1, 2010
A Miami native, Frank Rubio was educated at Florida State University. While photography has always been a passion for Frank it was through the encouragement of his friends and the tutelage of CS Photographic that led to his pursuit of photography. Frank has also been tutored by photographer Lindsay Adler. His work is influenced by the late great photographer Richard Avedon and fashion photographer Greg Kadel.
The plans for the new website are to maintain current work for display purposes. The website was created using Viewbook, which caters to creatives in the realm of photography.
Frank Rubio and Elite Models Miami have formed a partnership to create editorial stories for the International market. Make sure to stay tuned into http://www.frankrubio.net for new images.
###