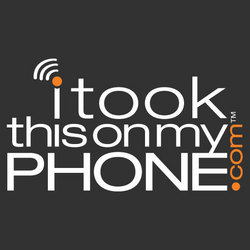 This newest generation of iTook gives the user more freedom and control over their photo sharing decisions
Blue Ash, OH (PRWEB) June 1, 2010
iTookThisOnMyPhone, a leading mobile photo-sharing company, announced today its release of the new iTookThisOnMyPhone Version 3.0 for BlackBerry smartphones, offering the user more control over destination selections, as well as photo-by-photo transfer capabilities. The company also announced its plan to introduce its next generation iPhone and Android versions of the application in July of 2010.
"This newest generation of iTook gives the user more freedom and control over their photo sharing decisions," said CEO Mick Kowitz. "We know that users first take pictures and then decide where they want those pictures to end up. Not the other way around. Version 3.0 provides the user with the ultimate control and ease in photo sharing."
iTookThisOnMyPhone is the number 1 downloaded photo category application in the BlackBerry APP World to date, and Version 3.0 promises to keep that trend going. The application's new interface provides the user with batch and individual processing of photos to over ten destinations including popular sites like Facebook, YouTube, Flickr, Photobucket and Picasa.
Additionally, iTookThisOnMyPhone is providing new website services including reverse aggregation from popular photo sharing sites. You can now look at albums of photos on the iTook website that are from other sources such as Facebook and Flickr, all based on your log in information on your cell phone.
Since its launch in fall 2007, iTookThisOnMyPhone has proven itself to be a popular and extremely easy-to-use application with an ever-expanding user base in more than 250 countries and 130 languages.
For more information, visit: http://www.itookthisonmyphone.com.
About iTookThisOnMyPhone, Inc.
Founded in 2007 by industry veterans that have built several leading third-party applications, iTookThisOnMyPhone.com's patent-pending photo workflow system is a complete solution that enables users to easily manage the photos they take with their smartphone cameras.
The BlackBerry and RIM families of related marks, images and symbols are the exclusive properties and trademarks of Research In Motion Limited-used by permission. FaceBook, YouTube, Flickr, Photobucket, Picasa, Android, BlackBerry and iPhone are trademarks of their respective companies and iTookThisOnMyPhone.com and associated services are neither sponsored by, authorized by nor affiliated with those companies.
Contact:
iTookThisOnMyPhone.com Corporate:
Mick Kowitz - mwkowitz(at)gmail(dot)com
Public Relations:
Mike Dektas - mdektas(at)dhacustomerconnect(dot)com
(513) 984-1200
# # #