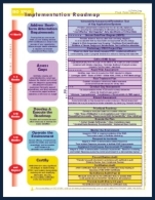 There's no need to be overwhelmed
Trenton, NJ (Vocus) June 1, 2010
John Verry, Principal Consultant at Pivot Point Security, and himself an ISO 27001 Certified Lead Auditor, is a self-described cheerleader for ISO 27001. "ISO 27001 is the simplest, most cost-effective, efficient way for companies to meet ever-changing information security regulations and business demands. We are seeing more and more clients moving in this direction – so we wanted to provide them with a clear, step-by-step route to take the guesswork out the certification process."
"There's no need to be overwhelmed," maintains Verry. "ISO 27001 is a process and our Roadmap points the way. Once it's broken out step by step, most clients immediately see how simple it is to get started – and how much benefit they will realize throughout the whole process. This is helpful because more and more companies are facing business requirements to be ISO 27001 certified. Instead of panicking, we can help them map a process that will lead them to certification while immediately satisfying the requirement."
Pivot Point Security has made the ISO 27001 Roadmap available to the public in the interest of promoting understanding of the certification process. "Our marketing director now says this is one of the hottest downloads on our site," says Verry. "Frankly, we're happy to help encourage the ISO movement. Europe and Asia have been far ahead of the US in this regard – but we're seeing that change."
In addition to the roadmap, Pivot Point Security has recently published an on-demand webinar (Is ISO 27001 Right for Your Company?) and other resources to help increase ISO 27001 understanding. Visit their site, get informed and get moving on the Road to ISO 27001!
Continually evolving technology, business requirements, regulations, and threats make "being secure" and "proving you're compliant" increasingly complex. The only logical response: Simplify. Pivot Point Security makes it easier to prove that you are secure and compliant by:

Focusing on the core group of security assessment services you need to do so;
Taking the time to understand your business and then optimizing our approach for your unique situation;
Delivering reports and guidance that are easily understood and acted on by both management and technical personnel; and,
Basing your assessment and recommendations on trusted, "open" (non-proprietary, non-vendor specific) guidance to simplify the process of operating and maintaining your Information Security Management System after we leave.
# # #