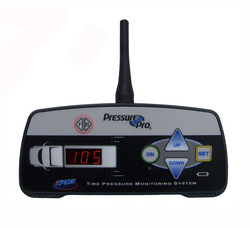 Wickenburg, AZ (PRWEB) June 1, 2010
Why would the big oil companies like BP, Exxon, or Chevron fear a small business located in the middle of nowhere, somewhere between Phoenix, Arizona and Las Vegas, Nevada? Because http://www.tirepressuremonitor.com has announced the solution to saving the trucking and RV industries the nearly 2 billion gallons of fuel that are wasted every year in the U.S. alone with their latest TPMS model.
Seven days a week, across the United States, more than 5 million gallons of fuel are wasted on a daily basis due to underinflated tires. At the current average price of about $3.00 per gallon of gasoline in the U.S., that's a waste of $5.5 billion dollars a year that goes right into the pockets of the big oil companies. For example, the tires on waste haulers (or trash trucks) have an average life of only 2,000 to 6,000 miles. This creates a major unnecessary expense paid for by municipalities, tax payers, corporations, and shareholders. What a waste!
Also, underinflated tires impact more than profits and poor fuel economy. They are a major concern regarding the safety and efficiency of commercial drivers. A low-pressure tire will eventually overheat, causing travel delays, premature tire failure, and possibly a fire or significant vehicle damage.
PressurePro is the breakthrough wireless electronic tire pressure monitoring system which sends an audible alert warning of low tire pressure before driving becomes unsafe. Small Sensors replace the valve stem caps and report to the Monitor which is Velcro-mounted in the dash area. This protects drivers, tires, and vehicles from unnecessary costly damage. PressurePro can be used on RVs and tows, trucks/trailers, ATVs, autos and commercial vehicles.
"Big oil should be afraid of us," says Duane Sprague, CEO of TirePressureMonitor.com.
An expert in Geophysics and Mechanical Engineering, Duane has over 25 years of experience in engineering, sales and distribution behind the best tire pressure monitoring system on the road today. "We can save businesses, government, and people tons of time and money that are wasted by something as simple as maintaining proper tire pressure."
L&S Safety Solutions will be featuring its PressurePro line of state-of-the-art products, and pumping profits into the U.S. trucking industry, at the Great West Truck Show, Booth #1946 on June 17-19, 2010 at the Las Vegas Convention Center, Las Vegas, NV.
About TirePressureMonitor.com
TirePressureMonitor.com is the highest ranked online provider of PressurePro, the finest tire pressure monitoring systems for the commercial vehicle market including the Trucking and Waste Industries, as well as the RV marketplace. For more information, visit http://www.tirepressuremonitor.com.
Media Contact: Carol Sprague, VP
L&S Safety Solutions LLC
P.O. Box 20309
Wickenburg, AZ 85358
USA
http://www.TirePressureMonitor.com
Tel: 800-521-6820
###