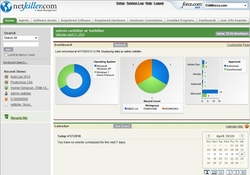 San Jose, CA (PRWEB) June 1, 2010
Netkiller (http://www.netkiller.com), one of the leader in IT Asset Management, announced that it is in sync with Salesforce's Appexchange to accomodate Salesforce CRM users, providing familiar environment to use IT asset management(ITAM). A full featured of ITAM application built from ground up on the Force.com platform allows IT professionals in organizations to automate their computer and software inventory within Salesforce environment and integrate asset information into Salesforce application.
According to Gartner Inc., twenty percent of IT industry will migrate away from hardware and other traditional IT asset management by 2012, which means cloud computing will be one of the most important factor to lead IT asset management industry. As Salesforce is leading CRM on the Cloud, Netkiller strives to be the best on IT asset management.
Netkiller IT Asset Management for Salesforce provides consolidated view of all aspects of assets; including CPU, RAM, operating system, hard disk drive, IP address, and Mac address of each workstation and server with commercial software license, service pack, patch, security patch, hotfix and many other software components. Experiencing in familiar Salesforce environment, user can analyse their entire IT assets in a few clicks and update current status of IT usage.
Netkiller IT Asset Management for Salesforce is only a handful of applications that supports all IT Asset Management and compliance among the Cloud Computing for 70,000 Salesforce customers. Because of Netkiller's broad software database has over hundred thousand standard software license definitions and through seamless comparison of installed software license, you can expect the most accurate and the latest search result. From searched software found with IT Manager is compare with purchased order summary, then it will determine either authorize or unauthorized. Thereafter, end user who uses unauthorized software will have a pop-up warning sign on their computer which supplies a strong software compliance.
This application also provides ability to generate custom view and custom report for all aspects of assets which can be analyzed with different aspect and then exported to spreadsheet. Combined results with employee contacts along with tangible and intangible asset information helps both, IT procurement and human resources department to cope with allocating the best resources and improve productivity.
Highlights of Netkiller IT Asset Management for Salesforce are:

Custom Reporting: Creates unlimited custom reports for all tangible and intangible assets to get in-depth summary and export it into excel document for easy sharing. IT department utilizes the report to analyse company's overall IT infrastructure performance for an easier IT management.
Easier to use: User-friendly interface is easy-to-use and requires no learning curve. You may personalize menus and change the way to view results.
Software compliance: Detects unauthorized and non-business related software such as Messenger, LimeWire, etc... and instantly warns the end user to take action.
Contract management: Manages all purchased software, hardware assets and services with measurable unit counts in dollar amount.
Customization: Menus, objects and even functions can be tailor-made to fit a certain need, such as, the need to manage IT assets on employees and customers in a same forum.
According to Netkiller, the new solution satisfies the needs of service teams within larger organizations, by offering a better way to manage the dynamics of a business built around people and save more than thirty percent of the IT investment.
Pricing and Availability
Netkiller IT Asset Management for Salesforce is currently available free at salesforce.com AppExchange for up to 10 clients and paid for above number of clients. As an example, at a large site using Netkiller IT Asset Management to manage thousands of computers with all features, upgrades and service supports, the price can work out to be less than $10 per year.
Useful Links and Resources
Netkiller IT Asset Management for Salesforce product overview
http://sites.google.com/a/netkiller.com/test/itam
Netkiller IT Asset Management for Salesforce video
http://sites.google.com/a/netkiller.com/test/itam/video-tutorial
About Salesforce CRM, the force.com Platform and Appexchange
Salesforce.com (NYSE: CRM) is a software as a service (SaaS) company that distributes business software on a subscription basis. Salesforce hosts the applications offsite. It is best known for its Customer Relationship Management (CRM) products. Salesforce.com has its services translated into 16 different languages and currently has 72,500 customers and over 2,100,000 subscribers.
Force.com is a cloud computing platform as a service offering from Salesforce, the first of its kind allowing developers to build multi tenant applications that are hosted on their servers as a service. While the company has been pushing the development as a service moniker, this has not yet gained acceptance outside of their offering, rather platform as a service is used by other vendors entering the market.
The AppExchange(http://www.appexchange.com) is the online marketplace for cloud computing applications and solutions. Partners can use the AppExchange to market and deliver their solutions to salesforce.com's community of more than 72,000 customers. Customers use the AppExchange to browse more than 1000 apps and solutions and then test drive and install them with a click.
About Netkiller
Netkiller, the name stands for Network trouble killers originated from non-profit organization with IT professionals in 1997. Netkiller has been providing tools for IT industry to efficiently manage IT resources. The privately-held company was founded in 2004 in Seoul, Korea, and now it's based in San Jose, Los Angeles, and Tokyo to develop cloud computing applications to provide cost-effective IT asset management and help desk.
###