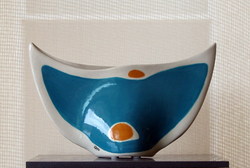 "My goal is to redefine and establish ceramics as a medium worthy of a place in the glossary of fine art and to attract a bold new generation of artists and collectors to this underappreciated medium."
Las Vegas, NV (PRWEB) June 14, 2010
(PRWEB) June 14, 2010 -- William T. Glass, identified by his initials WTG in the chronology of artists once associated with Rookwood Pottery---perhaps the 20th century's most famous, collectible American art pottery---has launched his signature-brand line of limited-edition ceramic creations under WTG Ceramic Arts. Glass transforms the ancient potters' craft into a sculptor's medium for reproducing distinctive new forms. Pisces introduces the signature series.
"My goal is to redefine and establish ceramics as a medium worthy of a place in the glossary of fine art and to attract a bold new generation of artists and collectors to this underappreciated medium."
Trained in fine arts, Glass earned a MFA degree in sculpture at Notre Dame University in 1957 under the Croatian master, Ivan Mestrovic, and painted fresco murals with Jean Charlot, a participant and chronicler of the Mexican Mural Renaissance.
Throughout his varied career as artist, teacher and entrepreneur, Glass has not subscribed to the dominant trends of the last century, but has adhered to his own singular vision of what art is. He brings a fresh, imaginative approach to the creative process whether he is working on a piece of sculpture or a ceramic vessel. His sensitivity to the subtleties of form results in original, incomparable shapes and designs—collectible in quality.
Glass is fond of quoting Einstein's "imagination is more important than knowledge" when talking about art. "What will become of us when the new techno-dependent generation discovers there is no app for imagination?" he asks.
To view his latest creations, Glassl invites you to take a look at Pisces and Fascination in both the glazed and decorated lines under WTG Ceramic Arts. Then explore
the Web site to discover other facets of Glass art.
###