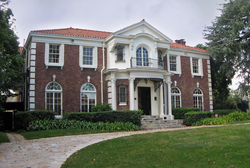 Foreclosures affect every walk of life
Burbank, CA (Vocus) June 1, 2010
It's hard to believe that a stately manor once owned by the late Harry Warner and a gathering spot for many of Hollywood's elite would fall victim to the recession's housing slump and become a foreclosure statistic, but it did.
However, like most Hollywood movies, the story about 501 S. Rossmore Avenue does have a happy ending.
The Hancock Park home was built in 1923 by the movie mogul/co-founder of Warner Brothers Studios and was the site of many Hollywood parties. Warner hosted the industry's top names in the home's basement screening room, which still exists today. The house has a pool, a tennis court and marble entrance and staircase. It is a stunning 7-bedroom home with a guest house.
Warner eventually sold the home to fund one of the first talking pictures "The Jazz Singer" starring Al Jolsen. Through the years, the home changed hands several times and continued to appreciate in value _ into the millions. But, hard times hit in the 2007 recession and it looked like the 5,555-square-foot estate might be another sad outcome of the recession.
The story was the same as it is all over the country, even in the famed Hancock Park neighborhood.
Media West Realty, a Burbank firm that is making a name for itself using cutting edge methods to market and sell homes, stepped up to get the property sold, and not for a fire sale price. And just like the former movie producer owner, Media West Realty broke out the cameras and lights and created a High definition movie trailer showcasing the home and marketed the property around the
world.
The steps they took would have made Harry Warner proud. They filmed the property, highlighting not just its assets, but those of the neighborhood and the community. They staged the home with the finest designer furniture and publicized its listing all over the real estate community as if it were
a Hollywood premier. The buzz they created and the crowd they drew as a result paid off. They sold the home this month for $2.9 million to a family enamored with their piece of Hollywood legend.
"The current real estate market has changed the way property should be sold," said Media West Realty founder/partner, Bryan Ochse. "You have to create a buzz right away."
Media West Realty also believes in customer service and strives to live up to their motto; Changing the way you look at real estate forever.
"Foreclosures affect every walk of life," Ochse said. "We are about making sure that any foreclosure we represents gets the same treatment as all our other listings _ tremendous staging, video production and exposure _ and we do it all as part of our normal service."
For more information, please call Bryan Ochse at 818-845-9700.
Please visit the movie link at:
Rossmore Property Website
And their company website at:
Media West Realty Website
Los Angeles Real Estate For Sale
###