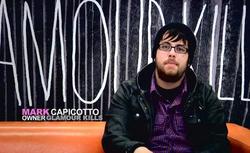 I like to stay focused and I like to keep myself level headed.
La Jolla, CA (PRWEB) June 8, 2010
23-year-old Mark Capicotto, Owner, Entrepreneur and Graphic Designer for some of the most popular bands will be the next celebrity featured on NATURALHIGH.TV. Natural High produces a drug abuse video series starring athletes, musicians, and role models who reject drugs. The goal is to diminish teenage drug abuse and encourage young people to pursue their natural highs instead. Capicotto owns Glamour Kills™, a clothing brand that has taken the fashion (and music) industry by storm. His T-shirts have been adorned by bands such as Matchbox Romance, The Maine, Boys Like Girls and Hey Monday. Mark is featured on NATURALHIGH.TV as an inspiration to other designers and motivated rockers of what success looks like when you decide to stay clean.
"When Glamour Kills started, a lot of the clothing that was worn in the music community was very dark or all black," said Mark, "That's not us. I wanted to introduce something that was bright, colorful and fun, but not overbearing. No one wants to wear a highlighter on their shirt. We've found the middle ground." Mark apparently was not the only one who craved this middle ground. Within five years Glamour Kills turned from a small homegrown venture into a full-fledged fashion company, with stores opening on both coasts in the near future.
"My natural high is graphic design," says Capicotto in the drug abuse prevention video. "I like to stay focused and I like to keep myself level headed. You want to always surround yourself with people who are positive and like minded; share the same goals, ideals, and morals that you do." Mark's dream and passion for design kept him going, and his drug free lifestyle ensured his success. With hard work, the right team, and good choices Mark was able to focus on what was important to him and what his dream life would look like, which he is now living.
Glamour Kills and Natural High will be aligning again this summer on the infamous Vans Warped Tour, which travels the United States with a plethora of bands tailored to America's music-obsessed youth. Glamour Kills will be sponsoring its own performance stage throughout the tour and Natural High will be showing Mark's segment at the San Diego, Pomona, Ventura and Carson shows. Check out the video with music provided by punk band All Time Low and directed by award-winning filmmaker Josh Landan and learn more at http://www.naturalhigh.tv.
# # #