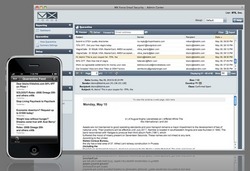 You can't just put email security in the cloud and expect that it will be better than an in-house solution. You have to take advantage of what the cloud has to offer. We've done that with CloudCrest™
Dallas, Texas. (PRWEB) June 2, 2010
MX Force, LLC (http://www.mxforce.com), a global provider of email security services in the cloud, today announced the release of the next generation of managed email security, CloudCrest™.
Offering a series of tangible innovations, MX Force is reshaping the way email is secured in the cloud. Mike Makowski, the company's CTO, considers the release of CloudCrest the "culmination of what email security in the cloud is supposed to be. You can't just put email security in the cloud and expect that it will be better than an in-house solution. You have to take advantage of what the cloud has to offer. We've done that with CloudCrest."
The most pronounced innovation is the company's new administration console. Although cloud solutions have their benefits, perhaps the greatest frustration users of cloud services encounter is the web-based interface. In fact, MX Force has shown that up to 67% of an administrator's time is spent clicking links and waiting for pages to load instead of completing the task at hand. MX Force's new console leverages AJAX technology to deliver an interface that looks and performs like a desktop software solution – effectively cutting administration time in half.
Recognizing the importance of integration, virtually everything that can be accomplished with the company's administration console can now be performed programmatically via a newly available API. "The API allows our partners, especially ISPs and other solution providers, to seamlessly integrate MX Force technology into their own solution," says Daniel Stevens, CEO at MX Force. Additionally, MX Force now provides a Command Line Interface which allows administrators to write batch and shell scripts to automatically keep domains, users, and settings in sync without having to log into the console.
MX Force has also announced the availability of what the company calls "Quarantine Feeds." Users no longer have to wait for a quarantine summary report or log in to the console and wade through countless messages. With Quarantine Feeds users can locate and view quarantined messages right in their favorite email client or smart phone.
About MX Force:
MX Force, LLC is a global provider of Cloud Email Security Services to small, medium and large businesses. Founded in 2005, MX Force leverages the power of the cloud to provide layered security that stops spam, viruses and phishing before reaching the corporate network. MX Force is also a leader in partner innovation, providing technology resellers with the only fully re-brandable email security platform in the industry.
For more information call 1-866-283-4004, or email info(at)mxforce(dot)com.
###