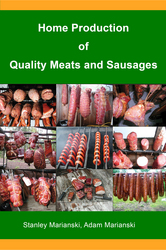 "We want him to understand the sausage making process and we want him to create his own recipes. We want him to be the sausage maker."
Seminole, FL (PRWEB) June 14, 2010
Home Production of Quality Meats and Sausages is a one- volume reference on making quality meats and sausages. There are many cookbooks loaded with recipes which do not build any foundation for the serious hobbyist to follow. This leaves him with little understanding of the sausage making process and afraid to introduce his own ideas. There are highly technical and expensive professional books that are written for meat plant managers or graduate students pursuing a master's degree in meat technology. Unfortunately, these works are written in such difficult technical terms, that most of them are beyond the comprehension of an average person.
Home Production of Quality Meats and Sausages bridges the gap that exists between highly technical textbooks and the requirements of the typical hobbyist. Technical terms were substituted with their equivalent but simpler meanings and many photographs, drawings and tables were included. The book covers topics such as curing and making brines, smoking meats and sausages, U.S. Standards, making fresh, smoked, emulsified, fermented and air dried products, making special sausages such as head cheeses, blood and liver sausages, low salt, low fat and Kosher products, hams, bacon, butts and loins, poultry, fish and game, safety, creating your own recipes and much more… To get the reader started 172 recipes are provided which were chosen for their originality and historical value. Although recipes play an important role in these products, it is the process that ultimately decides the sausage quality. It is perfectly clear that the authors don't want the reader to copy the recipes only: "We want him to understand the sausage making process and we want him to create his own recipes. We want him to be the sausage maker."
ISBN: 97809982426739, 700 pages, Format: 6 x 9, Paperback, SRP: $26.95, Genre: Cooking, Food Science.
Published by Bookmagic LLC
Availability
With U.S. wholesale distribution through Ingram and online availability through Amazon, Barnes & Noble and elsewhere, Home Production of Quality Meats and Sausages meets consumer demand through both retail and library markets. Additionally, the book can be ordered by retailers or wholesalers for the maximum discount price from Bookmagic LLC.
About the Author
Stanley and Adam Marianski are authors of three popular books: Meat Smoking and Smokehouse Design, Polish Sausages, Authentic Recipes and Instructions, and The Art of Making Fermented Sausages. They run the highly rated web site http://www.wedlinydomowe.com dedicated to smoking meats and making sausages.
Contact Information
John Novak
Bookmagic LLC
(727) 479-4577
johnnovak(at)bookmagic(dot)com
###