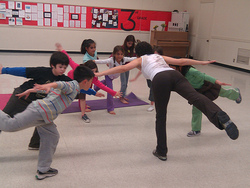 We are all about engaging kids in fitness and nutrition while working with the community at large.
Santa Monica, CA (PRWEB) June 1, 2010
Leading youth fitness brand O2 MAX Fitness has announced an entire summer of initiatives focused on addressing the unmet needs of college students, teenagers, and children ranging from ages 2 to early 20s. As with all of their past successes such as MAXProm, College Fitness, Family Fitness, and MAX Racing, all programs will leverage social media to engage today's youth while also delivering tangible health & nutrition through partnerships with respected brands such as YogaWorks and Lifestyle Family Fitness. O2 MAX Fitness has several local and national programs launching this summer including:
Summer Saturdays
On select Saturdays, kids ages 5-10 spend a Saturday participating in fun activities that engage both their bodies and minds. The day starts with a kid-friendly yoga session and ends at the local Whole Foods where participants have a healthy lunch and take part in a nutritional demonstration.
Outdoor Excursion Day Camp
Each day campers will bicycle to an iconic locale in Los Angeles, partake in an outdoor workout, and have a nutrition- or fitness-based lesson or demonstration. This is proven to be more effective than traditional weight loss camps or fitness programs b/c kids are kept in their real environment while being taught how to think about fitness and nutrition with everything they like to do! Make better choices at the movies, at the arcade, etc.
MAXProm to Pool
A summer transitional program from MAXprom, Prom to Pool is a 10-week online fitness and nutrition program that works with existing fitness facilities to get girls ready for prom in a healthy way. The program emphasizes proper exercise and nutrition, and dissuades crash or fad diets. Teens participating in "Prom to Pool" will receive unlimited free classes at YogaWorks for the entire month of June!
Teen Summer Shape up
O2 MAX Fitness members between the ages of 12 and 17 will take advantage of two free months membership at any of Lifestyle Family Fitness 55 locations as part of their annual initiative.
Tour De Fitness
Now entering its 3rd year, Tour de Fitness is an interactive treasure hunt through the streets of Santa Monica featuring guerrilla-like tactics. This year O2 MAX is joining forces with the City of Santa Monica's - Buy Local Campaign. The 2009 event saw over 145 participants take to the streets completing different fitness and nutrition challenges.
According to Karen Jashinsky, Founder of O2 MAX, "We believe that social media and youth fitness must intersect in order to get today's kids up and moving. We are all about engaging kids in fitness and nutrition while working with the community at large." During O2 MAX Fitness' "90 days to healthy" summer campaign, they'll be parlaying the success they've already achieved on a local level, to a national platform by reaching today's youth, engaging them, and inspiring them where they already are- online!
###