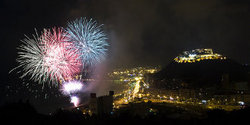 Alicante Spain, it is hard to beat
(PRWEB) June 2, 2010
The Hogueras San Juan (St John's Bonfires), Alicante Spain principal festival, has been officially declared as of International Tourist Interest. From June 20th to June 29th, there is a daily firecracker display that shakes the buildings to the point that one might think they will crumble to the ground.
The firecracker display is mostly for the noise, but as the week goes on you will find some firecrackers with colored smoke are being set off. Fireworks are so loud that there is a myth that if you don't open your mouth during the display your ear drums will explode from the pressure.
Another absolutely amazing aspect of the St John´s Bonfires festival is that each neighborhood constructs a falla, which is a paper mache statue to be displayed for the week in the streets. The neighborhoods aren't very big so the statues are located every few blocks. These statues are as big or bigger than some buildings.
The artist starts working the day after the festival is over on the statue for the next year. Each neighborhood also makes a small statue along the same theme called a Ninot. During the course of the week, the statues are voted on and prizes are rewarded. Then on the very last night the statues are burned to the ground, as everyone watchs in amazement.
The Ninot (smaller fallas statue) that wins first place is kept, and put in the museum that keeps the prize winning Ninots. The streets of Alicante are not only filled with colorful statues but also with many people out enjoying the festivities. Some of those people are dressed in traditional attire.
Oh, and don't miss the most amazing fireworks we have ever seen! They have them every night, but beware the noise of the firecrackers can be overwhelming. Don't let that spoil the fun though! They come in all different shapes and colors and everyone will be down by the waterfront watching them.
Situated in eastern Spain, in the southern part of the Valencian Community, Alicante contains some of the most breathtaking and beautiful sites and scenery Spain has to offer. Containing approximately 160km of beaches, Alicante is a major destination for sun-seekers. With activities such as scuba diving, water skiing and rock climbing , it also caters for those more active than the regular sun-bather. The main cities of Alicante province such as Benidorm, Denia, Calpe, Javea, Torrevieja, etc, each add their own various qualities and contribute to the overall beauty of the area.
###