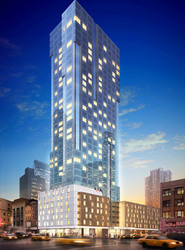 New York, NY (PRWEB) June 1, 2010
The InterContinental New York Times Square premieres this July featuring 607 guestrooms with panoramic views of the Manhattan skyline, Hudson River and Broadway district via floor to ceiling windows. These luxurious New York City style accommodations are available for a limited time only, for The Intercontinental Times Square has introduced a special grand opening offer of 25% off the best available rate for stays from July 12 – September 8, 2010, however, these must be booked by June 15, 2010. Conveniently located at 44th Street and 8th Avenue, guests at one of the newest of New York City hotels can enjoy over 39 theaters found in the New York theater district as well as fabulous shopping in New York City close by.
New York Times Square hotels newest addition the InterContinental New York Times Square features guestrooms designed to evoke the feeling of a chic Manhattan residence. The oversized bathrooms offer a spa-inspired experience with walk-in rain showers with midnight blue mosaic tile made to resemble sparkling water. All hotel rooms feature a work station complete with touch screen computers, a 42" HDTV and wired and wireless internet. With 10,000 square feet of meeting space and 29 flexible suites, a New York City meeting or New York City conference can be accommodated in modern comfort and style at the InterContinental New York Times Square. A 24 hour business center and fitness facility offer convenience and comfort.
The InterContinental New York Times Square will also be the home of the French inspired bistro Ça Va, mastermind by chef Todd English, who was recently named to the James Beard Foundation's "Who's Who in Food and Beverage in America". The New York City restaurant will mirror Manhattans' dynamic and international culinary scene. The trendy bar overlooks Broadway and captures the energy of the New York Theater district and the urban appeal of Hell's Kitchen.
The InterContinental New York Times Square will be one of the most environmentally responsible hotels in New York and the largest new-builds on the Eastern Sea Board in pursuit for LEED certification from the US Green Building Counsel. LEED certification is based on a number of green design and construction features including use of sustainable materials.
To take advantage of the grand opening offer of 25% off best available rates this summer for guestrooms or one of the stunning suites at the InterContinental Times Square New York, visit http://www.interconny.com and book by June 15, 2010.
###