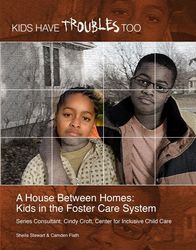 Unfortunately, childhood is not always the idyllic, trouble-free time many of us like to imagine
Philadelphia, Pa. (Vocus) June 4, 2010
Kids Have Troubles Too, a 13 title series of educational books based on a range of troubles that face children in today's society, is making its way to schools and libraries this fall. Mason Crest Publishers is producing the books which address tough issues such as children dealing with divorce, alcoholism, abuse, parental unemployment and death. This series looks at the troubles kids face from the perspective of a child in that situation. Each book opens with a fictional story about a child facing a particular challenge, this is followed with educational information, along with guided counseling facts and exercises. Written for young readers, the books provide powerful tools for counselors, teachers, and other professionals working with children who are facing these difficult issues.
"Unfortunately, childhood is not always the idyllic, trouble-free time many of us like to imagine," said Cindy Croft, M.A. Ed, director of the Center for Inclusive Child Care. "Children are faced with a range of troubles, from self-esteem issues to anger management, divorce to substance abuse within the family, all of which are sympathetically addressed in these books."
Croft is the author of several books and the expert editorial consultant on the Kids Have Troubles Too series. Through her position on the faculty at Concordia University, she teaches courses on young children with special needs and the emotional growth of young children. She is also Director of the Center for Inclusive Child Care, a state-funded program with support from the McKnight Foundation. It creates, promotes, and supports pathways to successful inclusive care for all children with the goal of inclusion and retention of children with disabilities and behavioral challenges in community child care settings.
"At Mason Crest our editorial team works to find those areas which have been mostly under published and yield the greatest needs for teachers, counselors, schools and library patrons," said Louis Cohen, Principal of Mason Crest Publishers. "We believe that these topics, while difficult in nature, are greatly needed in our ever changing communities and it's our mission to publish materials that will help children through these troubling times."
The books are currently being sold to schools and public libraries across the country and will be on the shelves in late September. The titles in the Kids Have Troubles Too series include:
1. A House Between Homes: Kids in the Foster Care System
2. What's Going to Happen Next? Kids in the Juvenile Court System
3. I Live in Two Homes: Adjusting to Divorce and Remarriage
4. When My Brother Went to Prison
5. When Daddy Hit Mommy
6. My Feelings Have Names
7. I Don't Keep Secrets
8. I Like Me
9. When Life Makes Me Mad
10. A Place Called Dead
11. When My Sister Got Sick
12. When My Dad Lost His Job
13. Sometimes My Mom Drinks Too Much
For more information on the series and Mason Crest Publishers, call 866-MCP-BOOK or visit http://www.Masoncrest.com.
About Mason Crest Publishers: Mason Crest evolved in 2002 from some of the key people responsible for making Chelsea House Publishers one of the leading young adult and reference school and library publishers. Mason Crest is dedicated to providing the most unique upper elementary and young adult quality books available within the school and library marketplace. With each series Mason Crest obtains the most proficient & knowledgeable editors, advisors, senior consultants, major institutions, authors, agencies, and specialized "think tanks" to ensure the books meet the highest standards of excellence. Mason Crest is currently offering over 1,500 titles that reflect the company's dedication to quality. A complete list can be found online at http://www.masoncrest.com.
###