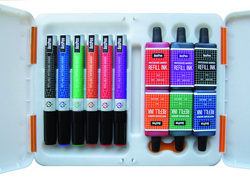 "The choice of using the AusPen markers has to do with reducing waste and toxicity and they are cost effective,"
San Rafael, CA (PRWEB) June 2, 2010
How does a group of highly-motivated teens make a huge difference in their school and community? Take a look at the Teens Turning Green chapter at San Rafael High School in Marin County, California for the plan.
This impressive group of students have taken matters of sustainability and health into their own hands. These thoughtful and informed individuals are targeting toxic exposures in their school, and they are demonstrating their youthful power to enact positive change.
Schools Going Green: Following an initial assessment of their school's needs, the teens decided to focus on replacing unsustainable, toxic school supplies. "We chose simple changes that wouldn't break the bank," explains Emily Packer, the co-president of the National Teens Turning Green, and member of the San Rafael High School chapter, "but would have a big impact."
The first toxic product on the club's chopping block is disposable, toxic, dry-erase markers used on the school's whiteboards. "They are in every class, in every building", explained Packer, who herself began experiencing headaches in her classes. "Now I know there are neurotoxins in regular markers]. There's something wrong there." The teens' response was to do some research to find an eco-friendly alternative. It was through this search they discovered the AusPen dry-erase markers. AusPen markers are completely eco-friendly, using non-toxic ink and are both refillable and recyclable. The marker itself is made of 100% recycled aluminum, so it eliminates all that plastic waste generated at each school every year. By making the switch, schools no longer toss disposable markers into their local landfills.
"The choice of using the AusPen markers also has to do with reducing waste, and they are cost effective, which puts in a good word with the purchasing director".
The club set about raising funds to purchase the eco-friendly markers for the classrooms. They first engaged the administrators, other students and teachers, and informed them of the potential harms and risks associated with noxious fumes from regular markers. "The teachers have been exposed to toxic markers their whole teaching careers, without knowing about green alternatives." Motivated into action, the teens, with the help of a teacher-mentor, began fundraising, including a 13 mile hike-a-thon along Ring Mountain in which they raised the money needed to purchase the school sets of AusPen markers.
When asked what advice she might give to other students wanting to make a difference in their school, Packer suggests starting by evaluating the needs of the school. "And don't give up. Don't take 'no'." She urges, "When teens tell their schools about ideas for positive change, and if they have valid reasons, the administrators listen. They really do."
Most inspiring about the accomplishments of Teens Turning Green at San Rafael High School is the fact that the members are educated and they are educating others; it's not just about the kids in the club. Packer was impressed to see that the teens kept coming back, interested and passionate about the issues. "There was nothing sustainable at my school before this. Now, when I graduate, they'll continue to make changes because we've seen positive changes." It seems like nothing will stand in the way of these teens who would climb mountains in pursuit of a healthier and greener school.
To view a video clip of the Teens Turning Green on their hike-a-thon go to:
http://www.youtube.com/watch?v=6oE_neKcTu4
To view the health and environmental benefits of AusPen refillable dry-erase markers go to: http://www.ecosmartworld.com
For more information about this topic please call Maureen O'Neill at 1.866.328.7736 or e-mail maureen(at)ecosmartworld(dot)com
###