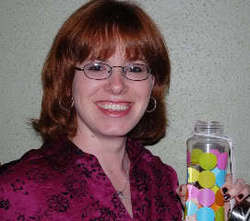 "I felt as if I had gone crazy. I didn't have anyone in my life that could validate or sympathize with what I was experiencing. I needed hope, I needed to hear that someone could show me the way and hold my hand."
Cypress, TX (PRWEB) June 2, 2010
Life has become very fast paced. Anxiety, panic and stress is on the rise all around the world. Wife, mother and working woman Amy Furbee spent many years hiding under the bed with anxiety and daily panic attacks.
After a clean bill of health from her doctors she was handed prescriptions and given a pat on the back. Wanting to know why and how to get rid of these feelings, and get back to normal she started out on the self healing journey of a lifetime.
Today living anxiety free Amy Furbee is helping thousands of people reduce stress and find hope that they too can turn the corner and break free as she has. The Hatched Egg was created from the feeling of isolation that she felt when suffering from her own anxiety. "I felt as if I had gone crazy. I didn't have anyone in my life that could validate or sympathize with what I was experiencing. I needed hope, I needed to hear that someone could show me the way and hold my hand."
The Hatched Egg is a positive environment that shares personal stories, motivation, education and inspiration for those using medication or looking for more of a natural approach. With an open email policy Amy is always willing to share her own story with her "Peeps" to give them that feeling of community. The Hatched Egg has a daily/weekly email message to offer support directly to their inbox. Site support offers a forum, weekly online chats, expert friends, and podcasts among all the pages of free information and support to help in each individual's journey.
For more information on Amy Furbee and The Hatched Egg visit http://www.thehatchedegg.com . Sign up for their community to get valuable newsletters and be entered into the monthly giveaways of Egg Tools.
###