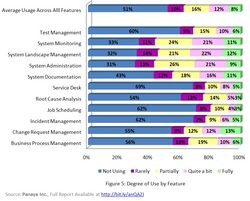 SAP customers can benefit from understanding what the most useful features are and where third party solutions can enhance and complement SAP Solution Manager
Menlo Park, CA (PRWEB) June 2, 2010
The complexity of SAP Solution Manager is its biggest challenge, reveals a new survey conducted by Panaya, a leading provider of SaaS (software as a service) for automating SAP upgrades and maintenance.
SAP Solution Manager is a central component in SAP's Application Lifecycle Management offering. Panaya conducted this survey amongst 347 SAP customers and systems integrators worldwide in April 2010 to learn how SAP customers use SAP Solution Manager and what challenges and benefits they associate with it.
Key findings of the survey include:

The top reason cited for using SAP Solution Manager is Central System Administration (19%), followed by System Monitoring (14%) and Project Management (13%).
The top benefit of using SAP Solution Manger is Control (42%). A substantial 20% of the respondents are unsure of what benefit they receive from SAP Solution Manager.
The Complexity of SAP Solution Manager is the biggest challenge in using the system (32%). One quarter of the respondents do not understand the value of SAP Solution Manager and find that to be a challenge.
Documenting business process in SAP Solution Manager is key for using some of its advanced functionality. But 42% of the respondents have not documented any of their business processes in SAP Solution Manager and only 3% have fully documented their business processes.
System Monitoring is the most used features of SAP Solution Manager. Service Desk, Job Scheduling, and Incident Management are the least used features.
On average, SAP Solution Manager features go unused by 51% of the respondents, 10% use them rarely, 16% use them partially, 12% use them quite a bit, and only 8% use them fully.
"With the current hype about SAP Solution Manager, we were curious to uncover the facts behind the buzz," said Amit Bendov, Panaya's Chief Marketing Officer. "SAP is promoting SAP Solution Manager and many IT Directors are asking what's in it for them. By asking current users of SAP Solution Manager about their usage habits, other SAP customers can benefit from understanding what the most useful features are and where third party solutions can enhance and complement SAP Solution Manager."
Panaya provides SaaS that enables SAP users to save up to 50% of their application lifecycle costs by automating maintenance projects such as SAP upgrades and support packages. Panaya automatically identifies the errors that will occur as a result of an upgrade, suggests corrections, makes automatic corrections to most issues, creates test plans, and estimates budget for the project.
The complete survey can be downloaded at http://bit.ly/anQAZJ
Additional media files for bloggers and press are available at http://bit.ly/c26cvK
About Panaya:
Established in 2006, Panaya Inc. provides software tools that save SAP customers up to 50% of their software upgrade and maintenance costs, while minimizing risks and proving clear ROI. Provided as Software as a Service (SaaS), Panaya's SAP environment simulation shows which custom SAP programs will break as a result of an upgrade, explains how to fix them, derives the most efficient test plan and calculates the required budget and resources for the project.
For further information contact Susan Sullivan at Susan.Sullivan@PanayaInc.com or 617-875-6256 or visit the Panaya web site at http://www.panayainc.com.
SAP is a registered trademark of SAP AG. SAP and other SAP products and services mentioned herein as well as their respective logos are trademarks or registered trademarks of SAP AG in Germany and in several other countries all over the world.
###