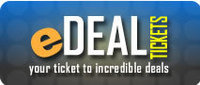 ...promoting the local businesses that make Austin such an awesome place to live.
Austin, TX (PRWEB) June 1, 2010
eDEAL Tickets, an Austin-based coupon company that offers its subscribers irresistible daily deals, officially opened for business today with a deal for 50% off Segway tours from Segway Nation.
Austin is an ideal place for eDEAL Tickets to do business, as the city has been singled out by countless magazines and newspapers for being one of the best places to live. In fact, Austin recently earned the title of the #1 Best City for the Next Decade from Kiplinger's Personal Finance Magazine on the strength of the city's small businesses.
The eDEAL Tickets team is excited about partnering with these local Austin businesses to get them the attention they deserve by negotiating deals that consumers can't help but notice. Upcoming deals from eDEAL Tickets Austin will give customers the opportunity save money while eating at popular restaurants, visiting tourist attractions, and discovering exciting new ways to stay in shape and meet people.
"We're thrilled about being able to offer cool products and experiences at great prices while promoting the local businesses that make Austin such an awesome place to live," said Peter Tsai, Social Media Director of eDEAL Tickets.
eDEAL Tickets is committed to supporting local communities. Fifty percent of the profits from the first week of Austin sales will benefit the Austin Humane Society (AHS) and the company will continue to donate a portion of proceeds to AHS for the entire month of June.
The Austin Humane Society is the city's largest no-kill, non-profit animal adoption shelter dedicated to saving Austin's homeless cats and dogs, educating our community about responsible pet ownership, and reducing pet overpopulation.
Giving back to the community is an ongoing effort at eDEAL Tickets. Each month, the company will select a local charity to benefit from its sales.
For more information about the company and to see the daily deals, please go to http://www.edealtickets.com.
About eDEAL Tickets
eDEAL Tickets is an Austin-based company that strives to benefit the community through the fusion of online marketing, customer savings, and philanthropy. Each day, the company helps a local business gain exposure by offering customers an incredible deal at that business with savings of 50% or greater. eDEAL Tickets then donates a portion of all ticket sales to benefit a local charity.
Media contact: Peter Tsai - peter(at)edealtickets(dot)com
For more information, visit http://www.edealtickets.com.
To learn how a business can be promoted on eDEAL Tickets, visit http://www.edealtickets.com/promote.
To recommend a charity, email info(at)edealtickets(dot)com
###