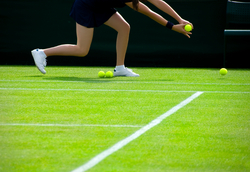 Singapore (PRWEB) June 2, 2010
Agoda, Asia's global hotel booking site and part of Nasdaq-listed Priceline.com, announces competitive London hotel rates just in time for the Championships Wimbledon 2010. Held from June 21 to July 4 this year, Wimbledon is the most prestigious of the Grand Slam events and offers a total prize pool of £12.5 million.
First held in 1877 at the All England Lawn Tennis and Croquet Club (AELTC), Wimbledon is as much about tennis as it is about tradition. Some quintessentially English characteristics separate this tournament from the other Grand Slam events, and while aspects of Wimbledon have changed to reflect modern times, most of its original traits remain.
Wimbledon attendees get to experience classic British traditions alongside thrilling center court action. Thanks to Agoda's latest promotions at London hotels, travelers can also enjoy great rates at London hotels handy to both the Championships grounds and to central London's myriad attractions.
Following are Wimbledon's most defining traditions, plus some of Agoda's best promotional rates.
Wimbledon's Great British Traditions:
Grass courts. Wimbledon has always been staged at the All England Lawn Tennis and Croquet Club (AELTC) on 100% rye grass courts. Grass courts are more expensive to maintain, adding to the tournament's prestige.
Strawberries and cream. Wimbledon heralds the English summer, when strawberries come into season. Served with double cream, they've been a Championships staple since the very first match.
Pimm's Cups. This is the signature Wimbledon drink, prepared with Pimm's No 1, ice, lemonade, mint, strawberries and slices of cucumber for maximum courtside refreshment.
Uniforms. Ball boys, ball girls, lines people and umpires had their uniforms redesigned by Ralph Lauren in 2006, but Wimbledon players must adhere to a strict all-white dress code, in place since 1877.
Rain. Even though it's summer, matches are frequently interrupted by rain. To avoid weather-related delays during the Singles events, a retractable cover was installed over center court in 2009.
Royal patronage. Queen Elizabeth II is the official patron of the AELTC, and will attend this year's championships for the first time since the event's centennial in 1977. The late Lady Diana was also a big fan.
How to get there:
The AELTC is in the London suburb of Wimbledon. The closest tube station is Wimbledon Park, a 20-minute train ride from Earls Court station in central London. Shuttle buses and taxis connect the station to the AELTC.
Where to stay:
Millennium Baileys Hotel
Featuring classic English country décor, this 4-star hotel is just across the road from Gloucester tube, one stop from Earl's Court station. Early Birds can enjoy a 15% discount off the normal rate by booking at least 21 days in advance of their stay. Travelers booking 3 or more nights can enjoy a discount of 20%. Agoda rates are from USD 201 per night.
Shaftesbury Hyde Park International Hotel
This modern 4-star hotel sits in a row of terraces, a five-minute walk from Bayswater tube station on the District and Circle lines, a short stroll from Kensington Gardens and Hyde Park. Early Birds booking a Deluxe Double Room for 2 nights or more can enjoy 10% discount. Travelers must book at least 21 days in advance. Agoda rates from USD 143 per night.
Pestana Chelsea Bridge Hotel and Spa
This modern 4-star hotel is on the south bank of the Thames river, near the iconic Battersea Power Station. Travelers can get to Wimbledon via Queenstown Road station on the South West Trains network, three stations from Wimbledon and two from Waterloo, central London. Travelers booking at least 7 days in advance of their stay can enjoy 10% discount, minimum 3 nights, valid until June 30 2010. Rates from USD 169 per night.
Grosvenor Kensington
Located in an elegant Victorian-era building next to South Kensington tube station on the District, Circle and Piccadilly lines, this 3-star hotel has great accessibility to the entire city. This is an upmarket neighborhood surrounded by high-end shopping, dining and museums. Stay 3 nights and enjoy 10% discount or stay 7 nights or more for 15% discount. Rates from USD 177.
Swissotel The Howard
This luxury hotel is located on the Thames waterfront next to Temple tube station on the District and Circle lines. On a direct line to Wimbledon Park, this hotel is also in an excellent position for sightseeing, shopping and theater-going. Book at least 3 nights and enjoy 15% discount; travelers booking at least 5 days in advance can also enjoy 15% discount. Agoda rates from USD 301.
Central House Hotel
Situated behind Buckingham Palace, this affordable 3-star hotel is close to Hyde Park Corner tube station on the Piccadilly line and within walking distance of Knightsbridge and Harrod's. Book at least 6 days in advance and enjoy 5% discount. Rates from USD 140 per night.
For more information, please contact PR@agoda.com.
Note to Editors
About Agoda Company Pte Ltd:
Agoda Company Pte Ltd (http://www.agoda.com) is a leading, Asia-based, online hotel reservations company, which specializes in securing the lowest discount hotel prices. Agoda.com is part of Priceline.com (Nasdaq:PCLN). Agoda's network includes over 7,000 hotels in Asia-Pacific and more than 100,000 worldwide. The multinational staff of 350 professionals, located throughout Asia, provides a first-rate reservation service that uniquely combines local knowledge and local connections to provide the best hotel deals to both business and leisure travelers.
In addition, Agoda customers participate in the Agoda Rewards Program, earning further discounts and free stays. Unlike programs that limit travelers to a single chain, the Agoda Rewards Program allows customers to redeem Rewards Points at thousands of hotels around the globe, at any time. A member of the Pacific Asia Travel Association (PATA), Agoda's aim is to promote travel by making it more affordable and more accessible to more people.
###