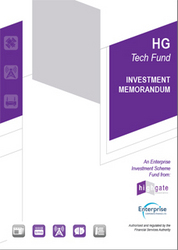 UK High Tech start up businesses are finding it difficult to get funding elsewhere, banks aren't lending, VC funds are looking for more established businesses and want to invest much bigger sums often asking for too much equity in return.
(PRWeb UK) June 2, 2010
Highgate Associates and Enterprise Corporate Finance are seeking to invest in the best of the UK's start up high tech businesses over the next 3-6 months. Highgate Associates is looking for 6 to 8 of the UK's most innovative IT sector early stage businesses in which to invest monies in the HG Tech EIS Fund.
The UK is currently the leading country for software start ups in Europe with over 100,000 specialist software houses located here today and more than one million people employed in IT related fields. Microsoft recently* forecast that more than 2,500 new IT businesses will be formed in the UK between 2010 and end of 2013 creating a further 78,000 jobs in the economy. Steve Ballmer CEO, Microsoft presented his findings in a recent lecture to the Confederation of British Industry in London adding that "Innovation should get us back on the path to long-term economic growth. Countries that foster innovation and invest in infrastructure, education and skills development for their citizens will have a major competitive advantage in the global marketplace."
The key to the success of these businesses is early investment combined with business support and expertise. Many innovative businesses flounder not because the idea isn't innovative but because the owners have limited or no business experience. The EIS Fund concept was established by the government to do just this by encouraging wealthy investors to support the growth of UK business through attractive tax incentives.
Mr Andrew Muir, HG Tech Fund Manager says "this is exactly the type of business that we are looking to invest in. UK High Tech start up businesses are finding it difficult to get funding elsewhere, banks aren't lending, VC funds are looking for more established businesses and want to invest much bigger sums often asking for too much equity in return. The HG Tech Fund is ideally placed to help the emerging innovative software businesses that will be critical for the successful UK economy of the future."
Not only will the HG Tech Fund provide financial investment but will also invest the time and expertise of the fund management team. All HG Tech Fund managers are industry veterans who have built, grown and sold high tech businesses globally for profit. Mr Muir continues "each business that we invest into will undergo intensive due diligence and only when my team are satisfied that the idea is innovative and the business plan is sound, will we invest. Part of this process will be to identify where we can help the business to achieve its goals and we will put the people and processes in place to make that happen."
The HG Tech Fund is an EIS accredited fund that is open to sophisticated investors with £10,000 or more to invest in a portfolio of early stage high technology companies and closes on 31st July 2010. This is a medium to long term investment opportunity with a 3-7 year exit strategy.
End

For further information please contact Andrew Muir on 07785 393583 or amuir(at)hgtechfund(dot)com or visit http://www.hgtechfund.com
Highgate Associates
Highgate Associates was established in 2001 by Andrew Muir and Ken Nelson, each having over 25+ successful years dedicated to starting and building technology companies globally.
Andrew Muir and Ken Nelson co-chair the Fund Investment Committee and work closely with Enterprise in allocating EIS Funds to the investee companies and managing the Fund investments. Highgate's senior Financial Director, Henk Nieuwenhuizen, oversees all investments made by the Fund to ensure proper accounting and disclosures.
http://www.highgateassociates.com
Enterprise Corporate Finance Limited
Enterprise Corporate Finance Limited is an investment adviser specialising in and predominantly working with unquoted investments. Its principal, Susan Phillips, has a background in investment management and for 17 years has specialised in financing, advising and mentoring unquoted companies across a wide range of industries. Susan is a recognised leader in the EIS community and acts as Director General of the EIS Association. http://www.enterprisecf.com
Authorised and Regulated by the Financial Services Authority
Enterprise Corporate Finance Limited is authorised and regulated by the Financial Services Authority, 25 The North Colonnade, Canary Wharf, London E14 5HS. This information is communicated on the basis that participants in investments managed or advised by Enterprise Corporate Finance Limited should be sufficiently expert to understand the risks involved and understand that they may not be covered by the rules and regulations made for the protection of investors in the UK. Past performance may not necessarily be repeated and is no guarantee or projection of future results. This is not an invitation to invest. Any investment must be made on the application form and on the terms set out in the Investment Memorandum dated March 2010.
Your attention is drawn to the risk factors on page 21. Unquoted investments can be difficult to sell and it can be difficult to obtain accurate information as to their worth or risk profile. This communication is provided for informational purposes only and should not be construed as an invitation or offer to buy or sell any investments. No recommendation is made, positive or otherwise, regarding individual investments. Any decision to invest should be made only on the basis of the relevant documentation for each investment. No contracts may be concluded on behalf of Enterprise Corporate Finance Limited by means of email communications. This information in this document and any attachments is confidential and may be legally privileged. It is intended only for the individual or entity named.
###