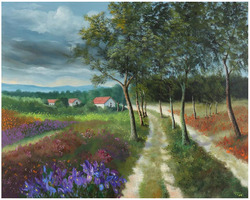 Heddy Kun's online art gallery site hopes to reach galleries and establish an ever growing connection with global art collectors
Tel Aviv, Israel (PRWEB) June 2, 2010
Heddy Kun has been creating colorful paintings of her natural environment for close to 60 years. The gallery web site presents a wide collection of her original works and serigraphs, which already spark interest among art lovers and avid collectors all over the world.
Heddy Kun, born in Yugoslavia and a holocaust survivor, has been painting for almost 60 years, had exhibited her work in many art globally renowned galleries, and has been the keen interest of private art collectors all over the world. Her unique style of love of life and nature with vivid and passionate colors shines through each one of her works.
Drawing her inspiration from the great impressionist artists, Heddy creates paintings of Mediterranean landscapes, ocean views and every day garden and still life moments. The painter's love of life and nature is made clear when one observes her detailed portray of flowers and fields. The use of natural settings also allows Heddy to present her skillful mastery of painting natural light and shade. The paintings are a vivid combination of the childhood memories set in Europe and the Mediterranean landscapes in which Heddy lived most of her life at.
The initiative to produce the web site with a collection of Heddy's work came from Multicore Israel Ltd, an Israeli based company whose owners have been avid collectors and fans of Heddy's art for many years, and who regard this site as an opportunity to not only promote Heddy's work worldwide but also to add this impressive artist work to the internet, expanding the possibilities of young artists to study Heddy's works and be inspired by her life story, her art and skill.
"Our relationship with Heddy extends over three decades and our love for her personality and art is beyond the regular art collector relationship with an artist", says Ran Shmueli, Multicore's director of public relations, who produced the pastel themed site, "We hope to reach galleries and people who have not heard about Heddy's work yet and also establish an ever growing connection with global art collectors".
The site has been seeing an increase to the number of its visits by the international art community these days with interest in new exhibitions and shows from Europe and the United States, where many of the painter's fans are located. The fact that you can easily browse through dozens of paintings in high resolution on the site is appealing to many art lovers that are familiar with Heddy Kun's reputation and work but have not been able to review her recent contemporary paintings until now. Collectors who are looking to buy Israeli art will also find the Israeli landscape paintings interesting and unique, a worthy addition to an art collection.
This gallery web site offers art collectors the opportunity of familiarizing themselves with Heddy Kun's work, and purchase her paintings on line. The producers of the site are already planning a site expansion to portray more of the recent works of Heddy Kun, updates to the site include not only new works of art but also additional information about the works and painter.
For additional information on Heddy Kun gallery web site, please contact Ran Shmueli or visit http://www.heddykun.co.il/english/home.html.
Multicore Israel Ltd. is the official and exclusive representative of the artist and painter Heddy Kun.
###