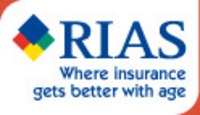 Rising funeral costs reach £2,733
(PRWEB) June 3, 2010
Over 50s specialist insurance provider RIAS has launched a new life assurance policy, the RIAS Over 50s Life Plan, providing guaranteed cover with a cash lump sum payable on death.
The plan, with monthly premiums starting from as little as £5 a month, enables over 50s to take the first step towards planning ahead for the future, leaving their loved ones with a valuable lump sum. And with the average cost of a funeral having risen by 66% in just seven years to £2,7331, the RIAS Over 50s Life Plan could provide a welcome relief to family members left behind.
The RIAS Over 50s Life Plan, underwritten by sister company Fortis Life, will provide customers aged between 50 – 75 years old with guaranteed acceptance, without any medical questions to answer. In addition, the plan also offers the following benefits:

Three times cash sum paid out if a customer dies accidentally within the first two years – which is unique in the market;
One and a half times premiums back if the customer dies for other reasons in the first two years;
Choice of premiums to suit all budgets and no payments required after 90th birthday;
10% extra with the Funeral Benefit option if using the proceeds of the plan to pay for funeral costs;
Option to increase the cover every year to keep pace with inflation – premiums will increase too.
Janet Connor, Managing Director at "RIAS comments:
"We understand that many people over 50 would like to leave money to their family or loved ones, but are concerned that they may not be able to in the current climate, with almost a fifth (18%) concentrating on paying off their mortgage or other debt2. With low monthly payments, and guaranteed acceptance without a medical, our new plan makes it really easy to leave something of value behind. It's a good way to take care of funeral costs, any outstanding bills, or simply to leave money to loved ones."
Martin Werth, Managing Director of Fortis Life UK adds: "We are delighted to have had the opportunity to work with such a strong consumer brand as RIAS to take our latest product to market. With RIAS' in-depth understanding of the over 50s market and retail experience, coupled with our manufacturing capability, we have designed an exceptional customer proposition, which I'm confident will be a success."
For more information about the RIAS Over 50s Life Plan, as well as the entire range of products RIAS offers, customers can contact RIAS on 0800 183 0743, or visit RIAS online at http://www.rias.co.uk
# # #