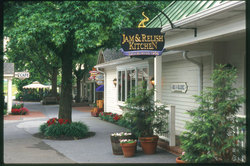 This is a great celebration of food, music, berries and jam complete with Dixieland, Brass and Bluegrass Bands, street entertainers and old-fashioned family fun!
Intercourse, PA (PRWEB) June 3, 2010
Let the battle begin as Lancaster's very own Iron Chef's take the stage in an audience interactive competition celebrating the berry at Kitchen Kettle Village's 15th Annual Berry Jam Festival on June 18th and 19th. The Festival will also offer two contests, a Berry Eating Contest and Whoopie Pie Filling Contest in which the winners will be awarded $20 Village gift certificates. While Festival guests jam out to some Bluegrass and Dixie, foodies can enjoy the two day long berrylicious sampling and demonstrations featuring inspired creations like stuffed berry pretzels with four berry honey mustard, wildberry oatmeal, huckleberry barbecue sauce, and juicy berry lemonade. Other events include an Antique Tractor Parade, musical bands including Banjo Jimmy and his Sidemen, Robin Church and the Brass Bandits, Dixieland Express and the twisting talents of the "Balunguy".
This event will precede other "Free at KKV" Events and Festivals slated for the year such as Yummie's Birthday Bash on August 7th and the Tailgate Festival (Featuring the Seven Sweets and Sours) on September 17th and 18th.
As always, all of the Events and parking is free. For more information or a complete listing of events please visit http://www.kitchenkettle.com or call at 717-768-8261 or 800-732-3538.
Located in the beautiful Pennsylvania Dutch countryside, Kitchen Kettle Village has been entertaining visitors from all over the world for more than 50 years. With 32 unique specialty shops, nine delicious restaurants and eateries, charming lodging and, of course, the famous Jam & Relish Kitchen, guests can watch local farm women putting up more than 80 original recipes of jams, jellies and relishes in large open kettles, take a carriage ride or enjoy the free seasonal festivals and year round family events. Conveniently located on Route 340 in the Village of Intercourse, Pennsylvania (10 miles east of Lancaster and less than two hours from Philadelphia and Baltimore), Kitchen Kettle Village is the ideal destination for the guest who wants a tasty Village experience. For more information, please visit http://www.kitchenkettle.com or call (800) 732-3538 or (717) 768-8261.
###