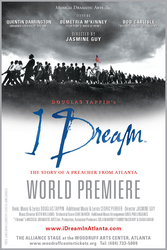 "We have often felt the hand of history on our shoulders as we have developed 'I Dream' here," says Perrier. "We have been most privileged to have enjoyed the support of Atlanta's former Mayor Shirley Franklin and current Mayor Kasim Reed, together with
Atlanta, GA (PRWEB) June 7, 2010
"I Dream" is a musical celebration and journey through the life and work of a man whose prophetic and historical significance has become legend. The story of the late Reverend Dr. Martin Luther King, Jr. is now a self-proclaimed rhythm-and-blues opera opening in Atlanta on July 9, 2010.
Presented by Musical-Dramatic Arts and directed by acclaimed actress Jasmine Guy, best known for her role as Whitley Gilbert in the 1990s hit series 'A Different World', the through-composed work is an inspirational portrayal of the civil rights leader from his early years through to the end of his life.*
"I feel honored to be directing such a landmark production. With a glorious score set to such a
moving American story, this is an exciting and emotional experience," says Guy. "And the fact that
we are premiering in my hometown, where so much of the story originated, is both momentous and
fitting."
Author and composer Douglas Tappin first began work on "I Dream" four years ago when he arrived from Britain to start a new life in Atlanta with his family. Once here, he immersed himself in the local history and, ultimately, found inspiration in the story of a local preacher.
"I've tried to combine historic and personal elements of Dr. King's extraordinary life and legacy with individual stories gleaned from interviews with people whose lives he touched during the tempestuous years of the Civil Rights Movement between 1955 and 1968," says Tappin. "I was particularly captivated by Dr. King's statement that man is neither villain nor hero – he is, rather villain and hero."
Having considered London, New York and Washington D.C., producers Cedric Perrier, Dej Mahoney and Tim Bowen were in no doubt as to the most appropriate city in which to debut 'I Dream'.
"We have often felt the hand of history on our shoulders as we have developed 'I Dream' here," says Perrier. "We have been blessed with the support of Atlanta's former Mayor Shirley Franklin and current Mayor Kasim Reed, as we have worked to bring this American story to life for its World Premiere on the famous Alliance Stage at the Woodruff Arts Center."
Originating the role of Rev. Dr. Martin Luther King Jr., is Quentin Earl Darrington, fresh from recent Broadway success in the Tony-nominated revival of 'Ragtime'. " I consider it a tremendous privilege to not only create and present this intimate expression of the man that is the Rev. Dr. Martin Luther King," says Darrington. "But also to do it in the city that centralized his life and work. It just feels right. It's home."
Acclaimed actress and singer Demetria McKinney, best known for her stellar performances in 'Tyler Perry's House of Payne', won the role of Coretta after an extensive search. "I am proud to originate the character of Coretta Scott King, a woman who was not only an exceptional wife and mother but, equally, a leader in her own right in the Civil Rights Movement, " says McKinney.
#1 Billboard recording artist, Bob Carlisle ('Butterfly Kisses' 'We Fall Down'), will premiere the role of Martin Luther King's mentor and Professor in the July production. "I am thrilled to be asked to participate in this exciting production," states Carlisle. " I can think of no other genre that so fully unites drama and song than theater. This is where great songs about a great man can come alive before our eyes."
As with the cast, MDAI's music team boasts an enviable line-up including Grammy®-nominated arranger Carl Marsh (Cirque Du Soleil, The Staple Singers, The Temptations); Legendary keyboard player, arranger and veteran Quincy Jones collaborator, Greg Phillinganes (Michael Jackson: 'Thriller', 'Off The Wall', 'Bad'; Stevie Wonder: 'Songs In the Key Of Life'); And Keith Williams, music producer and Director of Music at the Ebenezer Baptist Church.
"I Dream" opens for previews July 6 and will run July 9 through July 31 on the Alliance Stage at the Woodruff Arts Center, as an independent production.
For ticket information visit: http://www.woodruffcentertickets.org or call (404) 733 5000
Official website: http://www.iDreamInAtlanta.com
NOTES:
*Although the piece is largely based on real events in Dr. King's life, it does not purport to be
an authorized biographical representation of those events. Where necessary or desirable, the
creative imperatives of a stage show have therefore taken marginal precedence over historical
precision.
ABOUT MUSICAL DRAMATIC ARTS: Musical-Dramatic Arts Inc. (MDAI) is a theatrical production
company, based in Atlanta, Georgia and London, England. Its mission is to stage productions of
original works of musical-drama, with "I Dream" - based on the life of Dr. Martin Luther King Jr. -
being its first production in the U.S.A. Although Atlanta was selected as the most appropriate
birthplace for this new piece, the company's intention is to tour this and future productions
internationally through major markets, including Broadway and London.
MDAI is a partnership between author/composer/librettist, Douglas Tappin, his creative
collaborator/producer Cedric Perrier, and fellow producers, Dej Mahoney and Tim Bowen.
MEDIA CONTACT:
Danielle Styles, IMAGES USA
(404) 892-2931 ext 293
d.styles(at)imagesusa(dot)net
###