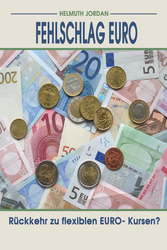 Pittsburgh, PA (Vocus) June 2, 2010
Fehlschlag Euro: Rückkehr zu flexiblen EURO- Kursen? By Helmuth Jordan has been released by Dorrance Publishing Co., Inc
November 20th, 2009: Political Black Friday of the European Union:
Millions of EU Voters woke up to the news that 27 Heads of State of the EU had for the first time appointed a President for the EU.
There had been no previous public debate. Mr. van Rompuy from Belgium has been in office since December 1st 2009, the very same day that the Lisbon Treaty ("European Constitution") entered into effect. What would the reaction have been, if the 50 US Governors had appointed a little known person as President of the United Sates?
It has never become more obvious, that the political dreams and economic realities in the EU have drifted apart. In addition to that a new legal weapon is part of the Lisbon Treaty. According to Art. 50 of the Treaty each nation of the EU is now entitled to secede. Such secessions have lead to bitter wars in the past, i.e. the American Civil War, Switzerland (13th Century.) and the Netherlands (17th Century).
If the European Union does not want to fall like a house of cards, the Euro Currency urgently needs correction by the introduction of a flexible Euro for a limited period.
Fehlschlag Euro: Rückkehr zu flexiblen EURO- Kursen? Is a 108-page paperback with a retail price of $15.00. The ISBN is 978-1-4349-0668-7. It was published by Dorrance Publishing Co., Inc of Pittsburgh, Pennsylvania. For more information, or to request a review copy, please go to our virtual pressroom at http://www.dorrancepressroom.com or our online bookstore at http://www.dorrancebookstore.com.
###