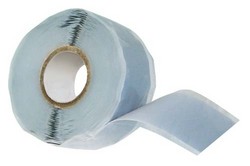 This product is a natural fit to Hoffman Product's extensive line of electrical connectors and terminals, we are excited about the potential for this unique product and how it can solve problems for customers
Independence, OH (Vocus) June 2, 2010
Hoffman Products, a TPC Wire & Cable Corp. company, announced the release of a new silicone self-fusing electrical tape. The product compliments Hoffman Products extensive line of electrical connectors, terminals, clips, cables ties and tools.
The new silicone self-fusing tape can be used in a variety of applications including electrical termination, cable splices, motor lead termination, repairing damaged electrical wires, cable management and bus bar insulation to name a few. This unique product easily covers irregular shapes and uneven surfaces protecting connections from oil, water, dirt, and dust.
The tape is well-suited for quick emergency repair jobs, and conveniently sized to easily fit into a toolbox or pocket. The product contains no sticky adhesive and bonds only to itself. This allows it to be easily and quickly installed or removed when repairs are necessary without leaving messy adhesive residue on the cable or connections.
"This product is a natural fit to Hoffman Product's extensive line of electrical connectors and terminals, we are excited about the potential for this unique product and how it can solve problems for customers" said TPC Product Manager, Jay Hathaway.
Hoffman Products Self Fusing Silicone Tape is made in the U.S.A.
Hoffman Products was purchased by TPC Wire & Cable Corp. in January 2009. TPC provides high quality, high performance electrical and electronic cord, cable and accessories to industrial markets including Mining, Utilities, Food and Beverage and Crane sectors. Premier Farnell is TPC's parent company.
http://www.hoffmanproducts.com
###