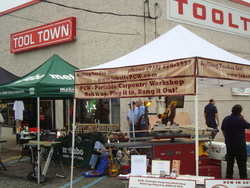 "In a business where time is money, the PCW boosts productivity with its well thought out design. From the moment my PCW came off the truck I knew I was getting a durable, first-class piece of equipment. I just don't see how we ever worked without it."
Brooklyn N.Y. (PRWEB) June 3, 2010
The PCW or Portable Carpentry Workshop, an innovative addition to the building trade that saves time and money by transforming jobsite setup, once cumbersome, into an easy operation, is garnering high praise from everyone from industry groups to television hosts.
"This is awesome," said host John Palanca, on an episode of DIY Network's "Under Construction." "It's a great concept, great idea that is well thought out by a carpenter. Half the job on a jobsite is setting up and this is already set up for you."
The Portable Carpentry Workshop, popularly known as PCW, organizes all the tools of the carpenter's trade into one rolling, easily accessible cabinet. From the miter saw to router, all tools are centralized, contained within one transportable compartment with an internally located power strip. Tools work from a single plug in as expediency abounds. No more wasted space. No more haphazardly stored equipment. No more costly set up, search for outlets or tripping over redundant wires. In the morning, just drink your coffee, then have at it. At the end of the day, instead of dismantling, go grab a beer. With this all-in-one breakthrough invention, it's: "Roll it up, Plug it in, bang it out!"
Remarked John DeSilvia, also host of "Under Construction: "This is the real deal and it comes from a union carpenter/ contractor and it has a lot of practical uses. With its telescoping arms and sliding configurations, its compact size doesn't limit what it can cut." In addition to television hosts, both Palanca and DeSilvia are licensed contractors of a well-known construction company.
Like many welcomed inventions, the patented PCW was born out of frustration and necessity. Fred Cona, a carpenter for the past two decades, was showing the strain from needless inefficiencies and wasteful costs. The countless walks back and forth to his truck, lugging equipment. The fear that his tools would be stolen or tampered with if left on site (the PCW locks.) That extra person needed to cut 4x8 sheet goods (with PCW's sliding configuration, only one worker is required.) "I wanted to improve my own day and the industry at large," said Cona, "and the best way to do that was with smart, versatile and portable tool storage device."
The PCW even has an extension table, for ripping long lengths of lumber, a fold-up desk for everything from drawings to lunch and an underneath storage area, so even a broom has its place.
At INPEX, the Invention and New Product Expo 2008, the PCW was honored with the Grand Prize and a Gold Medal in the Construction category.
Added Cona: "All the praise is gratifying. But what's best is how the PCW creates a work environment that is safer and more productive." Welcome news indeed.
For More Information, Press and General Public:
Rolling Trades Inc.
149 79th St.
Brooklyn, NY 11209
Fred Cona
Phone & fax: (718) 576-1559
For More Information on our products visit:
http://www.rollingtrades.com or http://www.jobsitePCW.com
###