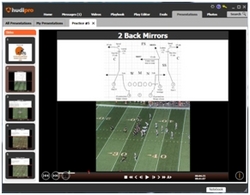 There is not a day or place that I don't have access to all my games, cut-ups, practices, or my playbook.
Lincoln, NE (PRWEB) June 2, 2010
The USC Trojans, Michigan Wolverines, Arizona State Sun Devils, and Oregon Ducks have all partnered with Agile Sports to take their football coaching online for the 2010 season with Hudl.
Hudl is an interactive video system that allows coaches and players to securely access their video, playbook, notes, and scouting reports online from any computer. These four teams join the New York Jets, Cleveland Browns, Minnesota Golden Gophers, Nebraska Cornhuskers, and Tulsa Golden Hurricane.
All four coaching staffs have been quick to dig into Hudl Pro. They have been using the system during spring football in preparation for the 2010 season. Coaches have been able to share video, presentations with integrated PowerPoint slides and play diagrams, and playbooks online with current players and incoming recruits.
"I can communicate my coaching to fellow coaches and players from anywhere," Arizona State offensive coordinator Noel Mazzone said. "There is not a day or place that I don't have access to all my games, cut-ups, practices, or my playbook."
Hudl Pro's playbook and presentation tools allow new players to get up to speed quickly by viewing videos of plays, listening to voice recordings from coaches and reviewing telestrations and text notes, all within one system.
"We can deliver teaching points right on top of the video from anywhere," said University of Michigan Head Coach Rich Rodriguez. "It's all secure. Each player has his own account, so I don't have to worry about who has our video."
In addition to these eight NFL and Division I college team, over 1,200 other college, high school, and youth programs across the country are using Hudl's online video editing tools. Agile Sports recently partnered with CBS Sports' MaxPreps.com, the leading online high school sports network, to serve as the exclusive high school sales agent for Hudl. MaxPreps is directly marketing Hudl to the 30,000 coaches across 12,000 high schools nationally who currently use MaxPreps.com to manage and share their team's rosters, schedules, scores, and news.
About Agile Sports Technologies
Agile Sports was founded in 2006 to help major colleges and professional teams win. After the first season of use by the University of Nebraska and the New York Jets, it was apparent that coaches at all levels could benefit from Hudl's powerful video analysis tools.
In 2008, Hudl was released for high schools, colleges, and youth teams, with the mission to bring the same tools used on the professional level to coaches across the country. Today, over 1,200 teams from youth sports to the NFL use Hudl to help them dominate the game.
For more information about Hudl, please visit http://www.hudl.com.
###