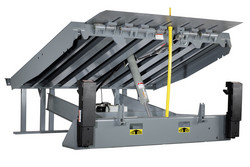 Milwaukee, WI (PRWEB) June 2, 2010
Rite-Hite has added smooth-transition technology to its line of high-capacity loading dock levelers. The RHH-5000 leveler and RHJ-5000 JUMBO™ leveler, which can accommodate gross loads ranging from 25,000 to 40,000 lbs., are designed to minimize the risk of back injuries associated with jolts that lift truck drivers experience when crossing the leveler platform and warehouse floor as semi-trailer trucks are serviced. The enhanced levelers also contribute to improved productivity and lower lifetime ownership costs.
Rite-Hite's high-capacity levelers are ideal for use in a wide range of industries such as paper mills, automotive plants, beverage operations, and steel mills where heavy forklift loads are common. To address high levels of jolting often associated with heavy loads, the enhanced levelers now feature a constant radius rear hinge that reduces bumps and gaps between the leveler and the warehouse floor, while a two-point crown control on the leveler's front lip provides a seamless crossing from the leveler to the truck bed. The innovative design helps reduce exposure to whole-body shocks and vibration, which can cause or accelerate back injuries. A smooth pathway also contributes to improved productivity since lift truck drivers can maintain safe and productive speeds as they travel across the leveler. Additionally, it contributes to lower leveler repair and replacement costs, as well as reduced product damage.
The RHH-5000 leveler is uniquely engineered to provide full access to the end loads of trailer. To do so, it features a slotted lip that can be positioned out of the way for unobstructed end loading. The RHJ-5000 JUMBO, meanwhile, measures 102 inches wide – a full 18 inches wider than conventional levelers. As such, it provides full-width access to below dock end loads, allowing forklifts to safely and efficiently manage loads without interference from pit walls or dock bumpers. Both levelers also feature an extended lip chamfer for an even smoother transition between the trailer and leveler. The complete line of Rite-Hite hydraulic levelers comes standard with environmentally friendly, biodegradable hydraulic fluid that outperforms traditional industrial-grade fluids. The levelers' standard safety features include an automatic SAFE-T-LIP® barrier to protect against forklift drop-off from vacant docks and an advanced hydraulic system for full-range leveler float and automatic free-fall protection. They also have pushbutton activation, and fully hydraulic platform positioning and lip extension for efficiency and ease of use.
All models also have the SAFE-T-STRUT™ maintenance support strut that supports the leveler deck and lip for safe pit access during maintenance, and a structurally strong platform with eight beams, four rear uprights and a front header. The entire line meets or exceeds ANSI MH30.1 standards.
About Rite-Hite Corporation
Rite-Hite Corporation, headquartered in Milwaukee, is a leading manufacturer of material handling systems designed for maximum safety, security and productivity. Principal product lines include trailer restraints, dock levelers, integrated controls, dock seals and shelters, industrial power doors, telescoping conveyors with automatic weighing and dimensioning abilities, fabric HVAC ducting, welding safety and machine guarding products, High-Volume/Low-Speed (HV/LS) industrial fans, and a variety of aftermarket products and services. For more information, call us at 1-800-456-0600, or visit our website at http://www.ritehite.com.
###