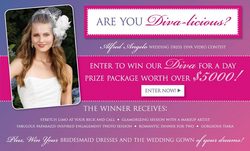 It's amazing to know I had the wedding of my dreams last September, wearing a gorgeous Alfred Angelo gown.
Fort Washington, PA (PRWEB) June 2, 2010
Alfred Angelo is looking for brides-to-be with chutzpah, and a penchant for finding themselves in front of a camera. Think you can out "DIVA" thousands of other brides to be crowned the second Alfred Angelo Wedding Dress Diva? Here's your chance!
Alfred Angelo proudly announces their second Wedding Dress Diva video contest. Starting June 1, 2010, newly engaged brides can submit a video strutting their stuff and showing their inner diva, telling Alfred Angelo why they deserve the ultimate star treatment. Each bride will post her video on YouTube for the world to vote for the best Diva video. Diva brides will vie to win a Diva For A Day prize package worth over $5,000.
The Grand Prize package includes:

A dream wedding gown from the Alfred Angelo collection
Bridesmaids dresses from the Alfred Angelo collection
A crystal tiara fit for a wedding DIVA
A Stretch Limo for the day
A Diva-esque Paparazzi-inspired engagement photo session
A romantic dinner for two
Get inspired by viewing the 2009 Diva video submissions. Log onto http://www.AlfredAngelo.com/WeddingDressDiva starting June 1, 2010. Submissions for the 2010 Wedding Dress Diva Contest will be accepted until July 1, 2010. Voting starts on the Alfred Angelo website on July 1, 2010, and closes at midnight on July 31, 2010. The bride with the highest votes will become our second DIVA, and will be crowned on August 1, 2010.
Last year's winner, Diva Shiley Carter Aguilar, married in September 2009. Shiley wore a stunning Alfred Angelo Piccione gown, style 410. Shiley won the first Diva contest by more than 3,000 votes.
Shiley says, "It's amazing to know I had the wedding of my dreams last September, wearing a gorgeous Alfred Angelo gown. As a teenager fighting leukemia, I didn't know if this would be a reality for me. Winning this contest helped me share my dreams with all the children I work with at the Texas Children's Hospital."
Asked about the most memorable part of the contest, Shiley said, "During voting, I would frequently get texts on my phone from my matron of honor. It was usually a forwarded text from people I never met, saying how excited they were for me. They were addicted to watching my numbers rise in the Alfred Angelo Diva contest. They made me feel so good."
A Diva-worthy collection
The 2010 Alfred Angelo collection is confident and feminine. Silhouettes are effortless yet boldly call attention. Stylish ball gowns show off in luxurious satin, shimmering chiffon or summer organza. Curve-hugging mermaids entice with hints of intimate details. Beading is bold and opulent, adding sparkle, letting the bride shine like a star on her wedding day. Diva fantasies will come true in an Alfred Angelo gown.
Images, as well as behind-the-scenes footage from the Diva For A Day photo shoot will be available for media upon request.
About Alfred Angelo
Founded in the 1930s by Alfred Angelo Piccione and his wife, Edythe Piccione, Alfred Angelo is the world's leading maker of wedding gowns and bridesmaid dresses and is committed to providing beautiful, high-quality bridal and formal dresses at affordable prices. In addition to manufacturing dresses distributed in over 2500 wholesale stores worldwide, the company operates signature Alfred Angelo Bridal Stores located in Arizona, Alabama, Arkansas, California, Florida, Louisiana, Maryland, Mississippi, Nevada, New Mexico, New York, Ohio, Oklahoma, Pennsylvania, Tennessee, Texas, Virginia, and Washington.
For more information about Alfred Angelo, please visit http://www.alfredangelo.com.
###