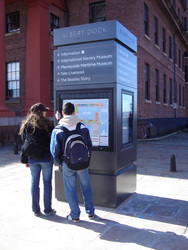 (PRWeb UK) June 3, 2010
There's no doubt that a well executed signage scheme, combined with a selection of eye catching graphics, can do much to enhance a museum's visitor appeal. Albert Baxter, Director of the British Signs & Graphics Association, describes some of the varied options that are currently available.
Traditionally, and rather disappointingly, signs are usually the last element to be specified on any project, when they often seem to be selected on a mere whim. Invariably, they also command the smallest part of any overall budget too. However, this is a great shame, not only because it means that an opportunity to improve and enhance the ambience of a specific development is lost, but because when signs are selected indiscriminately, they frequently need to be supplemented at a later date, thus spoiling the cohesiveness of any scheme and incurring extra costs into the bargain.
So in order to make the most of this potential asset, it pays to indulge in some careful thought before a new project or refurbishment program is implemented and to ask a few salient questions, such as what do I expect from my signs, how long do they need to last and how often will I need to make changes? These are all questions that signmakers will be more than happy to help you answer and any scheme you eventually decide to initiate will benefit enormously from their experience and advice.
In the first instance though, it helps to consider the different categories signs of signs and as far as museums and heritage sites are concerned, wayfinding signs are probably one of the most important aspects of any signage scheme. This is because any building looking to attract the public needs to provide concise and accurate directions as to entrances and exits, car parking and other visitor amenities, such as toilets and refreshments, so that the whole visitor experience is as pleasant and hassle free as possible right from the start. Good wayfinding also guides visitors on a logical route around special features and exhibits, both internally and externally, whilst also providing relevant information wherever necessary.
Albert Baxter of the British Sign & Graphics Association said, "This all sounds terribly obvious and simple and, in the hands of an expert, it is, but a special skill is required to devise a scheme that provides exactly the right amount of signage, as too little means that visitors risk losing their way or missing some of the major attractions and events and too much creates information overload, causing bottlenecks and confusion, as well as looking unsightly. Many signmakers make the production and installation of wayfinding signage their speciality and use a combination of bespoke signs and skilfully customised off the shelf systems, to create schemes that unobtrusively echo a building's architectural style, but which remain easily identifiable and legible.
Wayfinding signs also need to complement corporate identity signs including the main entrance sign, which needs to be impressive enough to be eye catching but have synergy with both the site and the ethos of the attraction itself. Such corporate identity signage is considered so important that it often commands the lion's share of any budget and, because it needs to remain in situ indefinitely and retain its original pristine appearance in the wake of any climatic conditions nature cares to chuck at it, the choice of materials is key. When planning corporate identity signage always factor in the cost of ongoing maintenance and select materials on the basis of their longevity and durability as well as their aesthetic appeal."
Because all museums and historic houses need to evolve if they are to ensure return visits, a lot of signs and graphics are of necessity, of the more disposable variety. Happily, as a breed, UK signmakers are a versatile bunch and the advent of digital printing technology has provided them with a simple and cost effective way of producing signs and graphics to order.
Most wayfinding signs are especially designed so that information can be changed and updated at will with freshly printed alternative text, but wide format inkjet printers can also be used in conjunction with a whole range of papers, textiles, self adhesive vinyls and banner materials, to provide promotional support for new innovations or to quickly change the mood of a room with colourful new graphics.
Two new substrate advances in this area include a number of digitally printable wallpapers that can be applied and removed with the same ease as traditional wallpaper, but that can also be creatively customised using a pattern or design of choice and a special vinyl that can be applied both internally and externally directly over bricks and other irregular surfaces, thus making light work of disguising unsightly walls.
He continued,"The growing popularity of soft signage, where graphics are printed directly on to filmy textiles, facilitates installation in areas where it would be impossible or dangerous to hang something more cumbersome and the effect achieved is also more pleasingly subtle than when using rigid materials.
Perhaps however, the most exciting opportunities are provided by the proliferation of digital signage networks, which use a combination of LED or plasma screens, powered by bespoke software programs and connectivity to a computer and/or the Internet. Digital signage facilitates constantly changing content, enabling information to be tailored to suit the needs of different categories of visitors. They also offer canny curators an opportunity for revenue generation, as the content can be designed to incorporate advertising messages that can be specifically targeted to match visitors' interests and aspirations. Digital signage networks are already commonly used in public spaces, shopping malls, train stations and airports, but they can also be seen in health clubs, doctors' surgeries and many other places where there is a captive audience. Whilst the early screens were utilitarian and bulky, they are now much sleeker and it is even possible to provide fully interactive screens, used in conjunction with back projectors, that can be unobtrusively installed on clear glass without detracting from the exhibits or features on show.
As you can see, the options are endless, but with a little forethought, it is possible to devise a scheme that will enhance every attraction whilst also maximising visitor satisfaction and perhaps even delivering a more tangible return on your original investment." For further information and to find a signmaker in your area, visit http://www.bsga.co.uk
###