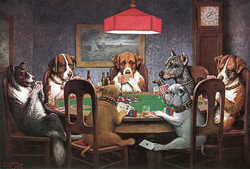 Los Angeles, CA (PRWEB) June 3, 2010
iMatte Inc., the creative team behind Ultimatte Corporation announced today the launch of their new iPhone App, which allows users to seamlessly insert their pet into three famous paintings from the 1903 Brown and Bigelow calendar of dogs playing poker!
"These famous paintings of dogs playing poker capture a truth all pet owners understand", says iMatte CEO, Paul Vlahos. "These creatures have unique personalities, emotions, sense of humor, in essence, a precious soul. When we saw our pets at the poker table with the other dogs, it was priceless. We knew we had something that could help all pets in need, so we contacted Adopt-a-Pet.com."
A percentage of the proceeds from each app download goes to Adopt-a-Pet.com, North America's largest non-profit homeless pet adoption website. Adopt-a-Pet.com, which displays pets for adoption at 9,000 animal shelters across North America is sponsored by Purina, Bayer Animal Health, and North Shore Animal League America.
"When I saw the app, I just thought is was so much fun, and I knew people would be telling their friends about it. We are so happy that the app will help promote awareness of our free service and help get great pets into loving homes." says Adopt-a-Pet.com President and co-founder, David Meyer begin_of_the_skype_highlighting     end_of_the_skype_highlighting.
The "Mix It Up With Adopt-a-Pet.com" app can be downloaded from the iTunes App Store. Additional apps will follow soon with other images to immortalize your pet in spectacular ways. Says Vlahos, "We developed this technology to entertain, and we are happy to bring this medium to iPhone users and benefit homeless pets."
About Adopt-a-Pet.com:
Adopt-a-Pet.com (formerly 1-800-Save-A-Pet.com) is North America's largest non-profit pet adoption website, helping 9,000 animal shelters, humane societies, SPCAs, pet rescue groups, and pet adoption agencies advertise their homeless pets to adopters for free. Adopt-a-Pet.com displays photos and descriptions of adoptable pets to over 1.5 million people seeking to adopt a pet each month, and is funded by the passionate pet lovers at Purina, Bayer Animal Health and North Shore Animal League America. Aside from being able to adopt a dog or adopt a cat, Adopt-a-Pet.com visitors can also adopt a rabbit, horse, bird, reptile, amphibian, fish, farm-type animals and other small pets.
# # #